A Little Help with Your 2013 Resolutions
Posted at Jan. 3, 2013 at 10:08 AM

New Year's Day is behind us now, and if you're like many people, you've made a list of resolutions for 2013. Sometimes, though, getting started can be the hardest part. I asked a few experts for some advice on how to make the first move. With their advice, you can do something today that you will be proud of a year from now.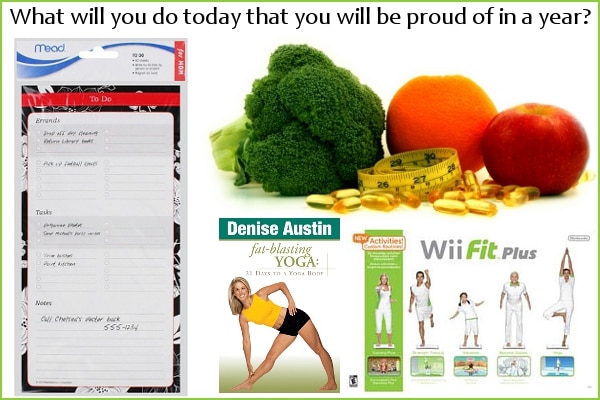 Resolution # 1: Get Organized
One of the most popular New Year's Resolutions is to get organized. Andrea Dekker gives advice on how to live your best life through simplicity and organization on SimpleOrganizedLiving.com, so I asked her where you should start if this is your goal. "My number one piece of advice is to create a Top 5 List," she told me. "Every night, before you leave work or before you go to bed, sit down and write out the top five things you absolutely MUST accomplish the following day. Then, when you wake up or get back to your office, you'll immediately be able to get to work without wasting time, procrastinating, or forgetting these must-do items."
It's true that feeling overwhelmed can be the biggest detractor from getting started. Andrea pointed out that "not only will a Top 5 List help you to stay motivated and focused, but it's also a lot less overwhelming than a list of 87 little tasks." I'm a big Post-It user for to-do lists, and they are just the right size for a manageable list of five things. I also love this memo pad from Mead that has separate sections for errands and tasks.
Resolution #2: Eat Well
I don't know anyone who doesn't overdo it on the treats during the holidays, but more than just going back to normal once the calendar changes, many of us need to improve our eating habits year-round. Is eating healthfully your goal for 2013? I asked Anjee Barber, MS Nutritional Sciences, DI, how to go about it. She said, "Pick one habit you'd really like to work towards changing, be specific in how you plan to do that, and give yourself a time frame in which to accomplish it (aim for 2-3 weeks if you're not sure what type of time frame to use). Stumped for a goal? Try these: I will eat one fresh piece of fruit and one vegetable every day, I will limit red meat to once a month, I will limit soda to once a week, or I will limit dessert to once a week."
Desserts are something I definitely overindulge in, so I'm going to take that one on. I can cut back for a few weeks, and then I'll see how things are going. Anjee added, "Make sure you track your progress! It helps you celebrate your small successes and recognize your improvement. Set new goals often (aim for a new goal every 2-3 weeks) that build on your past successes." Before you know it, you'll be eating well, and you didn't have to try any crazy diets. It's all about making one goal at a time.
Resolution #3: Get Fit
If better health is one of your goals this year, then you know you have to get moving. It just so happens that getting fit is my resolution for 2013. It's been two years since my son was born, and I still have more than my share of baby weight left.
I know I need to start exercising, so I asked Carla Birnberg, the writer, trainer, and motivator behind MizFitonline.com, what I need to know before I begin. "My best tip is to simply start," she stated. "Sure, I could break it down to specifics -- how many sets of an exercise to do or how long to do cardio -- but specifics aren't what are most important."
"Don't allow yourself to experience 'paralysis by analysis' and try to find the 'best' workout routine or spend hours searching for an exercise regimen which will make you lose the most weight the fastest, " she continued. "Remember, you can always change your routine, and you can always switch to a different type of workout. Make today the day you START."
So, I'm letting go of the feeling that I have to find the perfect thing and just going for it. I'm starting with what I already have in my home: a small collection of fitness books and DVDs and a Wii Fit Plus. I think these are things that many of us have around, so if you're committed to getting healthy this year, join me in taking Carla's advice. Let's get started. Today.
All of our experts seem to agree on one thing: Start small, and you'll soon see a big change. What are your resolutions for 2013? Will you work out with me this year? I'll check back in at the end of January and let you know how it's going!
Posted by Stephanie Petersen