6 Spooky Sips: Halloween Cocktail Recipes
Posted at Oct. 15, 2012 at 10:55 AM

The best thing about Halloween is that it's all about fun. For kids, dressing up and getting free candy is about as good as it gets. The adult version? Dressing up and getting your calories in a glass (well, we'll probably have some candy, too). If you're not sure what to dress up as, be sure to read our 2012 Costume Guide. And if you're planning a Halloween bash and need some beverage inspiration, then you'll want to try a few of these recipes from the bar at Rok Bistro in Sunnyvale, California. I asked Danae Wright, the manager there, for some ideas for Halloween cocktails and shots.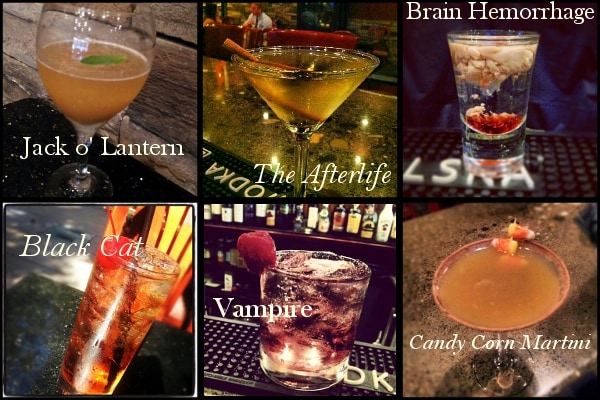 Images Courtesy Rok Bistro
Jack o' Lantern
I've never made a drink with pumpkin pie puree, but as a fan of all things pumpkin spice, I will gladly try this out.
In a cocktail shaker filled with ice, combine 2 ounces of your favorite buttery chardonnay (Danae recommended Rancho Sisquoc), 1 ounce cognac, 1/2 ounce apple cider, 1/2 ounce simple syrup, and 1 tablespoon spiced pumpkin puree.
Shake until cold and strain into a wine glass.
The Afterlife
This cocktail is so pretty, it could be featured in the Handbook for the Recently Deceased. It had a recipe section, didn't it?
In a cocktail shaker filled with ice, combine 1 ounce cinnamon whiskey (like SinFire), 1 ounce butterscotch liqueur, 1 ounce sour apple schnapps, and 1 ounce apple juice.
Shake until cold, strain into a chilled martini glass, and garnish with a cinnamon stick or a sprinkle of cinnamon.
The Brain Hemorrhage
This shot looks as scary as the name sounds, but Danae promised me it tastes like peaches and cream.
Pour 1/2 ounce of peach schnapps into a shot glass.
Float 2 tablespoons of Irish cream liqueur on top to create the "brain."
Pour 1 teaspoon of grenadine syrup through the "brain" to make the "hemorrhage."
Black Cat
I don't think you'll have bad luck if this black cat crosses your path, but that may depend on how many times it crosses your path.
Fill a highball glass with ice.
Add 1 ounce vodka (Danae suggests Ketel One) and 1 ounce of Kirschwasser (cherry brandy).
Fill the glass with equal parts cranberry juice cocktail and cola. Garnish with a maraschino cherry.
Vampire
The raspberry liqueur and the cranberry juice team up to give this drink its blood red hue. (It would also make an excellent pre-movie cocktail for the "Breaking Dawn" premiere on November 16th.)
In a cocktail shaker filled with ice, combine 1 1/2 ounces vodka and 1/2 ounce raspberry liqueur.
Shake until cold and strain into an old-fashioned glass filled with ice.
Top with cranberry juice cocktail and garnish with a raspberry.
Candy Corn Martini
I've seen a bunch of fall cocktails featuring vanilla vodka on Pinterest lately. You may want to pick up a bottle big enough that it will last through Thanksgiving, and start searching for drinks that taste like cake, candy, and pie. Danae recommended Sobieski vanilla vodka.
Rim a chilled martini glass with orange juice then cocoa power and set aside.
In a cocktail shaker filled with ice, combine 1 ounce vanilla vodka, 1/2 ounce dark creme de cacao, 3/4 ounce butterscotch liqueur, and 2 ounces orange juice.
Shake until cold, strain into the prepared martini glass, and garnish with candy corns and an orange twist.
These Halloween cocktails (plus a few more fall-themed drinks) will be rotating on the drinks menu at Rok Bistro throughout the season, so if you're in the San Francisco Bay Area, be sure to stop by and see which ones are the specials that day. They also feature a menu of fondues and meats (including premium and exotic meats) that you cook on a hot stone at your table. I've tried it, and I have to say, it's a lot of fun -- and delicious.
Are you planning a Halloween party? What's on your menu?
Posted by Stephanie Petersen