2012 Music Awards
Posted at Feb. 13, 2012 at 12:12 PM

The 54th Grammy® Awards aired last night. There were some great looks on the red carpet as well as fantastic performances. Much of the evening was devoted to the late Whitney Houston, including an incredibly moving rendition of "I Will Always Love You" sung by Jennifer Hudson as a tribute to Whitney.
As for the awards, the big winner was Adele, who took home six, including record, album and song of the year. She's now tied with Beyonce for most awards won by a female artist in a single night. Another big award went to the late Amy Winehouse who won a Grammy® for her compilation with Tony Bennett in "Body and Soul." Her parents accepted the award on her behalf.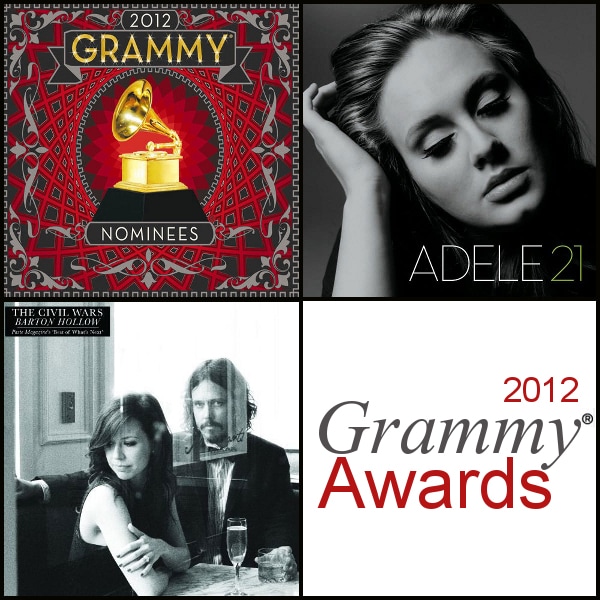 Here are some of the big winners of the night. Check out all the nominees on our 2012 Grammy® Awards page and listen to their music on this 2012 Grammy® Nominees CD.
Record of the Year: Adele "Rolling in the Deep"
Album of the Year: Adele 21
Song of the Year: Adele "Rolling in the Deep"
Best New Artist: Bon Iver
Best Pop Vocal Album: Adele 21
Best Rock Album: Foo Fighters Wasting Light
Best Alternative Music Album: Bon Iver Bon Iver
Best R&B Album: Chris Brown F.A.M.E.
Best Rap Album: Kanye West My Beautiful Dark Twisted Fantasy
Best Country Album: Lady Antebellum Own the Night
Best Folk Album: The Civil Wars Barton Hollow
Did you watch the Grammy® Awards? What was your favorite performance, and who did you expect to win big?
Posted by Andrea Sparks