2012 Costume Guide
Posted at Oct. 3, 2012 at 5:27 PM

It's officially October. As of today, you have 28 days to find a costume. If you have kids, this means you have 28 days to find several costumes, not just your own. Whether you're looking for something you can grab and go with, or the perfect accessories to build your own costume, we have plenty of ideas to help you find the right number for Halloween night.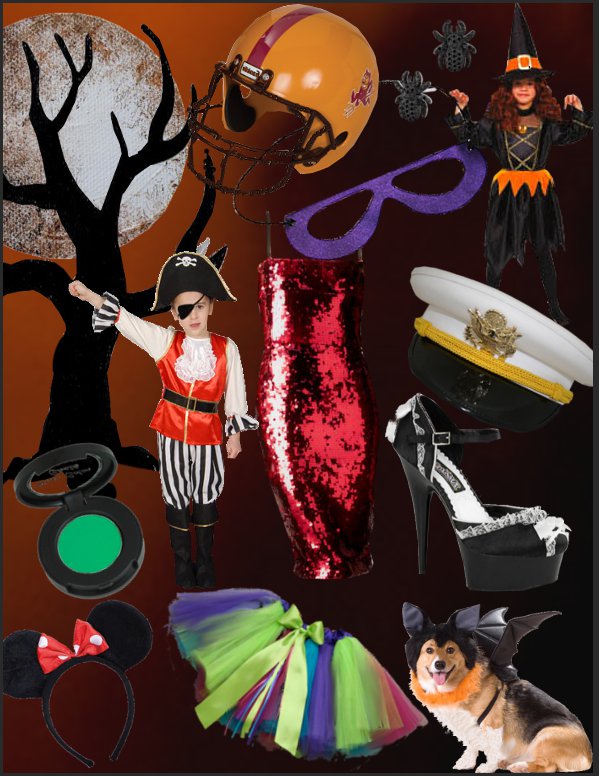 For the kids, these 3-in-1 costumes are a great way to go. Let's face it; costumes are expensive. With these, however, you pretty much get three costumes for the price of one. So even if your little witch decides she wants to be a devil instead, you're already set. They're great for playing dress-up year-round, too. Check out our other kids' costumes for more ideas. I'm particularly fond of this glittery witch costume. I would have loved to wear something like that when I was younger. A rainbow tutu could transform your little girl into a fairy, princess, or clown for Halloween. Check out what other colors we have and see what costumes you can come up with. This red and black tutu perfectly matches our Minnie Mouse headband, for example.
Little boys need the perfect costume, too, and dressing him up as the quarterback for his favorite football team might just be the answer. These football uniform sets come with everything you need for your little linebacker. Maybe he wants to be a pirate, a werewolf, or a penguin (you never know!) instead. If so, you're in luck, because we have all those costumes.
Superheroes are going to be big this year, thanks to summer blockbusters like "The Avengers" and "The Dark Knight Rises." Help your kid become their own superhero with a cool cape and mask set. And who says superhero costumes are just for kids, anyway? Grab a mask and go as your own super alter ego. You could even make it a family theme costume! Disguise each member in a different color mask and cape and go trick-or-treating together.
I'm the kind of person who likes to build their own costume, and I've learned the value of a good, go-to number, like this sequined red dress from Dolce & Gabbana. It would make a perfect Jessica Rabbit costume, but I could also see it as a devil with a horn headband, a seductive witch or a vampiress; or, throw on a feathered headband and go as a glamorous flapper. Why not wear them all? Just switch out your accessories for each party you attend.
Sometimes you've already found the perfect costume, but you need the right accessories to give it that finishing touch, like these platform pumps for your French maid costume or this captain's hat for your date's pilot ensemble. Jump on the hair chalk trend and use this bright green to transform yourself into a gruesome ghoul for the night.
Of course, you can't leave out the furriest members of your family. Pets love (and sometimes hate, really) dressing up for Halloween. Take your pooch out for a night of trick-or-treating dressed as a very festive bat. Get creative with their costumes, too. Maybe your pug wants to be Katy Perry, or your corgi would make a great velociraptor. We have plenty of fun, funny, and down-right adorable pet costumes to choose from.
Still need help finding the perfect costume for this year's festivities? Our Halloween Alter Egos infographic can point you in the right direction.
What are you thinking of being for Halloween this year? What's your favorite Halloween costume you've ever worn (or seen on someone else)?
Posted by Andrea Sparks