20 Summer Craft Projects
Posted at Jun. 3, 2013 at 1:35 PM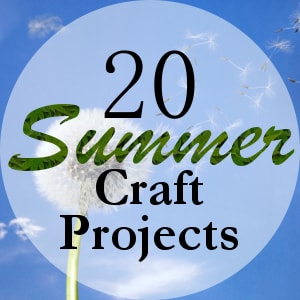 Whether you need to entertain your kids while they're on break from school or you have some free time of your own, summertime crafts are one of the best ways to spend a lazy day. July is particularly hot here in Salt Lake City, so I'll be hiding away in my air-conditioned basement craft room when the mercury rises. I also love setting up a craft station on my back deck on a June morning before it gets too hot; the deck is much easier to hose off when things get a little messy, and a little glitter in the lawn never hurt anybody.
But even with these perfect places for sitting down and whipping up something creative, I need inspiration to get started. I've collected 20 summer crafts ideas from the blog world to help you and me get the most out of any spare time we have this summer. Let's get crafty!
Vacation Crafts
Are you planning a road trip with kids? Cheri at I Am Momma, Hear Me Roar has directions for a craft that will help little ones track the progress of your journey, so they'll know the answer to "Are we there yet?"
Another way to entertain little kids while you're on the road is with the magnetic activity tray that Jaimee created on Craft, Interrupted, complete with printables and a few variations on the idea.
Commemorate a coast-to-coast road trip or just celebrate the U.S.A. with a United States map made out of scrap fabric. This one may take you a while to complete, but See Kate Sew has an excellent tutorial.
Rebecca at Simple As That devised a clever solution for recording memories from a summer vacation as well as storing the postcards, concert tickets, and other bits of memorabilia that you collect on your travels.
From the August 2011 issue of Martha Stewart Living comes this tip for instant art: Embroider your trip route on a map, mark your destination with an X, and then frame your creation.
Kid-Proof Crafts
Create a "jellyfish" in a plastic bottle for little kids to play with using Suchada's directions on Bhoom Play.
Lots of people say that a child could paint like Jackson Pollock, so why not let your kids give it a whirl? There are ideas for a Pollock-style art lesson on Hillbilly Jillies.
Jen at Plain Vanilla Mom has a tutorial for homemade birdseed feeders using cookie cutters. This is one that little kids could help make, and they'll love watching for birds once you've hung the feeders.
I'm pretty sure it's a fact that kids love making art out of their handprints, and Krissy at B-Inspired Mama has a fun way to make something patriotic with their painted prints.
Here's one I know my 2-year-old son is going to love: Make "dinosaur eggs" with dirt and plastic dinosaurs using Jen's directions on Projects for Preschoolers.
Party Perfect Crafts
Jordan at Oh Happy Day created the cutest mini piñatas out of cereal boxes. Fill them with treats and they would make fun party favors, or you could string up a bunch to make a decorative garland.
Every party needs a centerpiece, and Watermelon.org has a tutorial for a hilarious shark made out of summer's most popular melon. Carve one for Shark Week or a summer birthday party.
ZombieHilary created a star headband out of pipe cleaners for New Year's Eve, but I think it would be perfect for a 4th of July party, too. Her tutorial is on If Zombies Were Supermodels.
Speaking of stars, how about decorating a T-shirt with them using a rubber stamp? Jenni at I Spy DIY has the directions for creating a patriotic top you can wear to any summer shindig.
A 4th of July party would not be complete without a few American flags, and you can get them back out for Labor Day, too. Lora at My Blessed Life has a clever way to give brand-new flags a vintage look.
Beach and Pool Crafts
Make a beach blanket that's large enough for a group by sewing a few beach towels together. You'll find the tutorial on My Material Life.
Stella from The Golden Adventures of a Very Dark Horse created the Sunbathing Companion, a towel with a pillow and pockets for sunscreen. It's probably the most useful craft a sun worshipper could make. You'll find the directions in her guest post on Moda Bakeshop.
A trip to the shore -- or the community pool -- requires a good beach bag. Livy at A Field Journal has downloadable directions for her nautical-inspired Two Harbors Tote.
If you need a tote bag but aren't much of a seamstress, try the no-sew beach bag on Henry Happened. It's a very clever design made out of window screening.
A hooded towel is perfect for a small child, and Jaime at Prudent Baby has a great tutorial for a sweet, colorful version of the cuddly towel.
That should keep us busy for a few months, right? Do you have any craft projects planned for this summer?
Posted by Stephanie Petersen
All the blogs and third party webpages presented herein are not affiliated or associated with Overstock.com, Inc., and instead are created and maintained by third parties. The information and ideas presented on such blogs remains the responsibility and property of the respective third party bloggers.