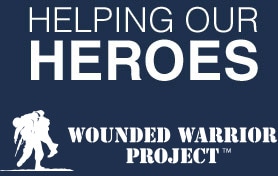 About Wounded Warrior Project
At Overstock.com, family and home are part of the values that drive us. We recognize that thousands of military men and women are far from home in service to our country. Overstock.com is a proud supporter of Wounded Warrior Project, which serves to provide support to the wounded men and women of the United States Armed Forces.

Wounded Warrior Project fights for those who fight for us, striving to "honor and empower wounded warriors" by raising awareness, enlisting public aid, and providing programs to meet the needs...
Every Dollar Counts
Help us make a positive and lasting impact in the lives of wounded service members and their families and support Wounded Warrior Project (WWP). WWP hopes to foster the most successful, well-adjusted generation of wounded service members in our nation's history. 82 percent of every dollar spent by WWP goes directly into life-changing programs and services.
On November 1, 2009, Overstock.com partnered with the Wounded Warrior Project and began accepting donations from our customers. To date, we are proud to have donated over
$1,000,000
to help our returning soldiers.
Watch the Video