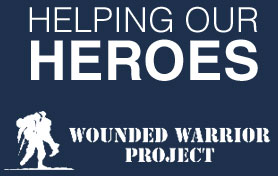 About Wounded Warrior Project
At Overstock.com, family and home are part of the values that drive us. We recognize that thousands of military men and women are far from home in service to our country. Overstock.com is a proud supporter of Wounded Warrior Project, which serves to provide support to the wounded men and women of the United States armed forces.

Wounded Warrior Project fights for those who fight for us, striving to "honor and empower wounded warriors" by raising awareness, enlisting public aid, and providing programs to meet the needs...
Every Dollar Counts
Please join us and Wounded Warrior Project as we support the homecoming and healing of wounded warriors and the loved ones who provide them care. Wounded Warrior Project's goal is to help make this generation of wounded warriors the most successful and well-adjusted in our nation's history. 83 cents of every dollar donated to Wounded Warrior Project goes to provide services and programs to wounded warriors and their families.
On November 1, 2009, Overstock.com partnered with the Wounded Warrior Project and began accepting donations from our customers. To date, we are proud to have donated over
$575,000
to help our returning soldiers.
Watch the Video