Women's Suits Buying Guide
by Stephanie Petersen
When you have a few women's suits in your closet, you'll always have something easy, versatile, and impressive to wear. If you're not sure how to buy suits that will add so much to your wardrobe, then this buying guide is for you. Here's how to buy the women's suits that are flattering, that fit your style, and that are perfect for every occasion.
Women's Suits by Occasion: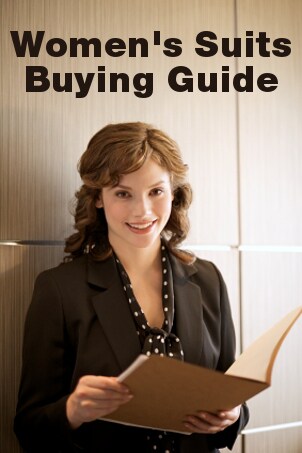 Shop Pant Suits ▸
The office:

The right outfit will let your coworkers and clients know they can take you seriously. Choose your suits to reflect a professional attitude: Look for solid, neutral colors and few embellishments. If you only want to buy one or two for work, choose suits in lightweight wool or a cotton blend, so you can wear them throughout the year. Crisp button-down blouses are the perfect choice with the suits you wear to the office. A white blouse is a classic, but don't be afraid to mix it up with bright colors and patterns. A turtleneck sweater in a neutral color is also an excellent layering option for work when it's colder.

Evening out:

For a dinner out, a concert, or cocktails, you'll want to be more dressed up. You can dress up your work suit with a few accessory changes, or you can wear a suit with a little more flair. An unexpected fabric -- like leather or silk -- in a bright color or a bold print will make a statement. Camisoles, lacy tank tops, and silky halter tops make your women's suit perfect for evenings and events.

Special events:

A wedding or other party is the perfect opportunity to wear a suit. A tuxedo-style women's suit is a stylish choice, or you can choose a women's suit made of fine fabric, like silk or velvet. Flirty, feminine details -- piping, ruffles, or flounces -- on your suit will make your outfit appropriate for the occasion. If you'll be taking off your jacket when you hit the dance floor, make sure your top can be worn on its own.

The weekend:

A casual women's suit is the perfect way to let it all hang out while still looking stylish. A weekend suit in a casual fabric, like corduroy or denim, gives you the chance to flatter your figure without looking overdressed. Casual shapes work well for weekend suits, like A-line skirts and ankle-length pants. For weekends and casual evenings, T-shirts are perfect with a women's suit. Stick to slim-fitting tees and make sure your jewelry reflects the casualness of the outfit.
Women's Suits That Flatter You
The waistline:

Whether you're emphasizing your curves or creating a few from scratch, a suit jacket with a defined waistline can do wonders for your figure, making you look slimmer and taller. If you have a thick middle, make sure you choose a suit jacket that doesn't cinch too much, so you'll still be comfortable.

The jacket length:

A cropped suit jacket can show off narrow hips and long legs. A longer suit jacket can elongate a short torso and conceal a tummy.

Skirt and pant shapes:

Skirts and pants in a flowing shape can downplay a heavier bottom half. If you want to show off long legs, choose suits with slim-fit pants and pencil skirts.

Colors and patterns:

Remember that you'll always look longer and leaner if you wear one color; a women's suit is one of the best ways to achieve this with the matching pieces. However, a pattern on one piece can draw the eye to features you want to emphasize.
Tailoring, Cleaning, and Storing Women's Suits
Tailoring:

Having a perfectly tailored women's suit is as essential to looking put-together as it is with men's suits. Women don't have a strict set of rules like men do, but you'll still want to make sure that your suit fits your shape and size. Be sure to get a quote from your tailor before starting any of these alterations; some can be expensive. Shop for a suit that you like the style of and just have adjustments made to the fit where you need them; don't try to make the suit into something completely different. You'll need to check with your tailor on specific suit styles, but, in general, a tailor make these changes.
How a Tailor Can Help with Cut and Fit
Alter the length and waist of skirts or pants
Add a lining to pants or replace the lining in a jacket
Shorten the rise in pants (and possibly lengthen it, depending on the amount of fabric)
Remove pleats from pants or skirts
Sew slit pockets closed to remove bulk in jackets, pants, and skirts
Shorten a jacket's overall length
Shorten or lengthen jacket sleeves
Reshape jacket lapels
Make the jacket armholes bigger
Close the vents on the back or sides of jackets
Cleaning:

Most suits are made of fabrics that need to be dry cleaned, but that doesn't mean you should dry clean your suits every time you wear them; every five or six times should be enough. The chemicals used in dry cleaning can cause wear, and you don't want to prematurely wear out your suits. Always have the top and bottom of your suits dry cleaned at the same time, so they'll wear at the same rate. If your suits need a little refreshing between dry cleaning, have your cleaner steam them. If you wear them often, you may want to invest in a home steamer to keep your suits fresh.

Storage:

Be sure to hang them on sturdy hangers, and your suits will look great for years. The more room you are able to give your suit in your closet, the fewer wrinkles you'll have when you pull it out to wear. Wool suits are particularly susceptible to moths, but a cedar sachet can keep moths away.