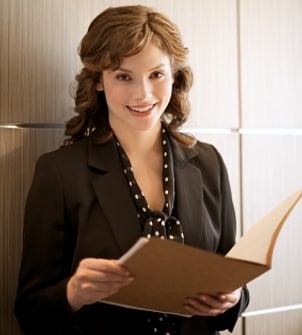 The perfect women's suit is both professional and flattering. Whether you're looking for a suit for a job interview or a gallery opening, you want it to look just right. This guide details the different styles of women's suits as well as how to wear them, so you will know how to find the right suit for you.
Types of Women's Suits:

Skirt suit: This classic look includes a suit jacket and coordinating skirt and is a favorite for the office and other professional settings. The most common, and conservative, style pairs a tailored jacket with a slim skirt cut from the same fabric, but you can find skirt suits in a variety of styles, shapes, and designs.

Pant suit: Originally taking inspiration from menswear, pant suits are now just as much a staple for women's wardrobes. A tailored wool pant suit is appropriate for even the most professional office, while something in a lighter fabric is slightly more casual but still acceptable for most offices.

3-piece sets: Some women's suits are available as 3-piece sets, with a jacket, pair of pants, and skirt included. This is a good option for women who don't want to buy separate pant and skirt suits because you can essentially get two suits in one.
Suit Styles:

Professional: For the office or other professional situations, look for suits in solid, neutral colors. Suits with a knee-length skirt are always professional, as are pants with a straight leg and classic fit. Keep your look clean and conservative with a white blouse and a tailored fit.

Evening: Suits aren't just for the office; special events like weddings, dinner parties, or a night at the theater all call for a more elegant suit. Look for dress suit styles made from satin, silk, and taffeta with feminine details, such as ruffles, larger lapels, or beading.

Business-casual: A suit is always dressier than your everyday clothes, but some suits are more casual than others. If your office has a business-casual dress code, look for suits in lighter fabrics, such as cotton or linen, and feel free to play with more modern cuts and styles. You can even wear the pieces of your suit separately or mix and match with other suit separates.
Wearing a Suit:

Details: The details affect the overall look of your suit. A single-breasted jacket is usually less dressy than a double-breasted jacket, and an inset waistline emphasizes curves more than a straight-cut jacket. Pay attention to how the details complement a suit or create a certain look that you're going for.

Cut and fit: Having a perfectly tailored women's suit is as essential to looking put-together as it is with men's suits. Make sure you are comfortable standing as well as sitting at your desk and that your suit fits your frame without tugging or sagging. Jackets should sit comfortably on your shoulders and reach your wrists and hips. Skirts and pants should be loose enough that you can fit two fingers under the waistband. Women's suits don't have a strict set of rules like men's suits, but you'll still want to make sure that your suit fits your shape and size. You'll need to check with your tailor on specific suit styles, but, in general, you can have a tailor make these changes.

How a Tailor Can Help with Cut and Fit

Alter the length and waist of skirts or pants.

Add a lining to pants or replace the lining in a jacket.

Shorten the rise in pants (and possibly lengthen it, depending on the amount of fabric).

Remove pleats from pants or skirts.

Sew slit pockets closed to remove bulk in jackets, pants, and skirts.

Shorten a jacket's overall length.

Shorten or lengthen jacket sleeves.

Reshape jacket lapels.

Make the jacket armholes bigger.

Close the vents on the back or sides of jackets.

Accessorizing: What you wear with a suit is just as important as the suit itself. Make sure the accessories you choose reflect the style of the suit. For a professional look, choose a blouse in a lighter color than the suit and a few basic accessories, like a leather handbag and simple jewelry. A more casual suit looks good with a colorful blouse or camisole underneath and chunky jewelry.
Care and storage:

Cleaning: Most suits need to be dry cleaned. The chemicals used in dry cleaning, however, can cause accelerated wear, so only dry clean your suit when necessary and spot or steam clean in between. Always have both suit pieces cleaned at the same time, so they'll wear at the same rate.

Storage: Always hang your suits on sturdy hangers, such as wood, to keep their shape. The more room you are able to give your suit in your closet, the less wrinkles you'll have when you pull it out to wear. Wool suits are particularly susceptible to moths, but a cedar sachet can keep moths and other pests away.

Buy Women's Suits
Back to Guides Directory