Women's Shoes Buying Guide
by Stephanie Petersen
Whether you love buying shoes or you wish you could always wear the same old pair, you may have some in your closet that make you wonder, "What was I thinking when I bought those?" If you need some advice on how to buy shoes that you'll love wearing, this women's shoes buying guide is for you. With these tips on finding shoes online that will flatter you and fit your lifestyle, all the women's shoes in your closet will make you think, "How did I live without those?"
Find the Most Flattering Shoes: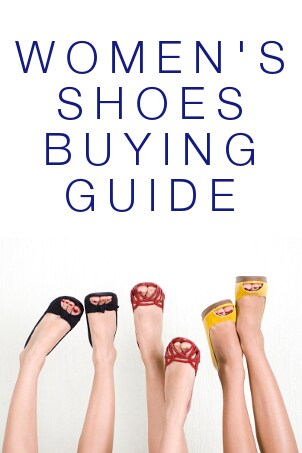 Shop Heels ▸
Boots:

For the most flattering boots, make sure they don't cut off your leg at its thickest point. Most women's legs are narrowest right under the knees, and knee boots are generally very easy to wear. Boots with a bit of stretch can make heavy ankles and calves appear narrower.

Heels, pumps, and wedges:

With so many styles of high heel shoes, there are many things to consider.
How to Buy Flattering Heels
Ankle straps: Short women may want to avoid shoes with t-straps and ankle straps because they can visually cut off the leg and make it look shorter. However, an ankle strap can actually make thick ankles look narrower by adding coverage and definition.
Heel thickness: Thin heels are flattering. However, the thicker the heel, the more comfortable you'll be and the more businesslike your overall look will be.
How high: Ultra high heels (more than four inches) can actually make a short woman appear shorter because the calf muscles will flex too much.
Toe shape: A tapered toe gives a slimming look overall, but women with large feet may want to avoid very pointy shoes. Shoes with an oval-shaped toe or a square toe are comfortable and will make larger feet appear smaller.
Flats:

Flats are the perfect shoes to wear with narrow pants or cropped pants, with short skirts or long skirts. If you want to wear them with mid-length skirts, choose flats with a slight lift in the heel.

Sandals:

Sandals show more skin on your feet, making your legs look longer. For sandals with heels, follow the same suggestions for pumps and high heel shoes. For casual sandals, like flip-flops, just consider whether or not the style will be comfortable.

Oxfords and loafers:

The perfect shoes to wear with pants, oxfords and loafers both have a classic, menswear-inspired feeling. If your oxfords or loafers have heels, you can pair them with skirts as well.

Athletic and athletic-inspired shoes:

Choosing the right shoes for your activity is the most important thing when it comes to athletic shoes. You'll want the right kind of support for your sport to avoid injuries. For athletic-inspired shoes, you'll want to focus on whether or not the style will be comfortable for you and if it will go with your casual clothing.
Find Shoes that Fit -- Even When You're Online Shopping
Measure your feet later in the day.

Feet tend to be larger in the afternoon. Measuring your feet in the afternoon or early evening will ensure a more accurate measurement.

Measure both feet.

Most people have a foot that is slightly bigger than the other. Order the shoe size that fits the larger of the two.

Consider the socks you'll wear.

If you plan on wearing thicker socks more often than not, you may want to order a half size larger than normal. If possible, wear the type of socks you will be wearing with the shoes most often when you measure your feet.

Measure your feet to find your size.

Put a piece of paper on the floor; you can tape it in place if it slips. Have a friend trace your foot with a pen or pencil perpendicular to the floor while you stand, or, if you are doing the tracing yourself, sit in a chair with your foot flat on the floor. Measure the length of your foot in inches to the closest 16th of an inch. Then measure the width of your foot in inches. Find your U.S. women's shoe size on the charts below. Refer to our International Shoe Sizing Conversion Guide if you're using a different size system.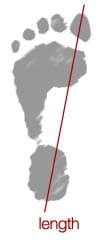 | U.S. Women's Shoe Size | Length in Inches |
| --- | --- |
| 5 | 8.69 |
| 5.5 | 8.81 |
| 6 | 9 |
| 6.5 | 9.19 |
| 7 | 9.31 |
| 7.5 | 9.5 |
| 8 | 9.69 |
| 8.5 | 9.81 |
| 9 | 10 |
| 9.5 | 10.19 |
| 10 | 10.31 |
| 10.5 | 10.5 |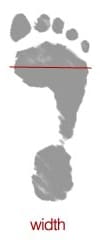 | U.S. Women's Size | Narrow | Average | Wide | Extra-wide |
| --- | --- | --- | --- | --- |
| 5 | 2.81 in. | 3.19 in. | 3.56 in. | 3.94 in. |
| 5.5 | 2.88 in. | 3.25 in | 3.63 in. | 4 in. |
| 6 | 2.94 in. | 3.31 in. | 3.69 in. | 4.06 in. |
| 6.5 | 3 in. | 3.38 in. | 3.75 in. | 4.13 in. |
| 7 | 3.06 in. | 3.44 in. | 3.81 in. | 4.19 in. |
| 7.5 | 3.13 in. | 3.5 in. | 3.88 in. | 4.25 in. |
| 8 | 3.19 in. | 3.56 in. | 3.94 in. | 4.31 in. |
| 8.5 | 3.25 in | 3.63 in. | 4 in. | 4.38 in. |
| 9 | 3.31 in. | 3.69 in. | 4.06 in. | 4.44 in. |
| 9.5 | 3.38 in. | 3.75 in. | 4.13 in. | 4.5 in. |
| 10 | 3.44 in. | 3.81 in. | 4.19 in. | 4.56 in. |
| 10.5 | 3.5 in. | 3.88 in. | 4.25 in. | 4.63 in. |