Winter Sports Accessories Buying Guide
by Staff Writer
Whether your sport of choice is skiing, snowboarding, snowshoeing or any of the other winter sports, the right winter sports accessories can make your day while the wrong accessories can ruin it. This winter sports accessories buying guide will help you figure out how to buy helmets and goggles, travel bags and the other winter sports accessories that will make your winter season one to remember.
Winter Sports Accessories: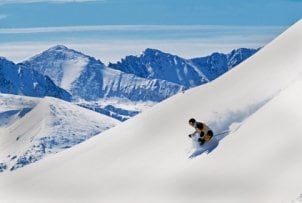 Shop Winter Sports Accessories ▸
Snow helmets:

There is no practical difference between ski helmets and snowboard helmets, so the term "snow helmets" is becoming popular. When thinking about a new helmet, the first thing to consider is fit. A snow helmet should fit snugly; if you shake your head, the helmet should move with it. If your helmet rattles, you need to adjust the straps, get heavier padding or buy a smaller helmet. After all, if a ski helmet or snowboard helmet is loose when you're just walking around, then it probably won't stay on well when you're skiing or snowboarding. Properly fitting snow helmets and snow goggles should meet about one inch above the eyebrows. When the chinstrap is tightened, it should rest snugly against your chin, but you should still be able to comfortably chew gum. When you're shopping for a new snow helmet, watch out for poor-quality snowboard and ski helmets. You can find cheap helmets that are still high-quality; however, these helmets are usually discount snow helmets, meaning they're last year's model or a manufacturer overrun. These are still top-quality snow helmets that will keep your head safe and warm. Speaking of warm, your head can get too warm, even on cold days. Many football players now wear skull caps of moisture-wicking material under their helmets to keep the head drier and more comfortable; skiing and snowboarding enthusiasts may get a similar boost.

Snow goggles:

Part of the fun of snow sports is that you can enjoy them even in poor weather. However, sometimes snowy weather or bright sun on the snow can make seeing difficult as you ski, snowboard or snowshoe, which is why snow goggles are important. Snow goggles help prevent snow blindness and impaired vision on dim days. They also protect the eyes from airborne bits of grit or snow. To do the job right, ski goggles or snowboard goggles must fit properly: The snowboard goggle strap should fit snugly over your ski helmet or hat and over your prescription glasses if you wear them. For maximum comfort, look for a flexible ski goggle frame that will conform to your face; foam padding should lay against your face evenly all around with no pressure points or gaps for wind to get in and dry out your eyes. Also, be sure to find ski goggles or snowboard goggles that have features that prevent fogging. Snowboard goggles with double lenses and small vents are less likely to fog up, and any snow goggles you buy should have an anti-fog coating on the inside of the lens. Be careful about wiping off the inside of the lens; it could remove the anti-fog coating. Look for cylindrical double lenses or spherical double lenses for the best in optical and weather protection. Polycarbonate snow goggle lenses offer maximum durability.

Snowshoes:

If you love winter weather but don't love skiing or snowboarding, then maybe snowshoeing is for you. Snowshoes have come a long way from the wood and sinew designs of the past, and today's snowshoes can take you just about anywhere you want to go, so your hiking and exploring doesn't have to end when the snow comes. Aluminum frames are the modern snowshoe standard, with decking of high-tech impregnated fabrics. If you want cutting-edge technology and lightweight materials, you can find carbon-fiber frames on premium snowshoes. Wood and rawhide shoes are available; these require more maintenance but are perfect for purists and historic re-enactors. Always look for an upturned toe on the frame because tripping over a 2-inch tall snowdrift is just embarrassing. Snowshoe bindings, the harness that keeps the foot in the snowshoe, should be flexible enough to cover several types of shoes and boots but tight enough to keep hold if you have to run. Bindings should have some pivot for comfortable movement. While manufacturer's terms may differ, there are three basic kinds of snowshoes available: recreational snowshoes, mountaineering snowshoes and running snowshoes. Recreational snowshoes are usually they least expensive kind of snowshoe. They have basic designs that work well for casual hikes on fairly level terrain. Mountaineering snowshoes are designed with aggressive traction and durable frames that allow you to tackle steep terrain and icy conditions. Running snowshoes are light and strong and have designs that maximize mobility to help you move quickly on groomed trails.

Travel bags and accessories:

Travel bags come in two basic types: specific use bags -- like ski bags and snowboard bags -- and general use bags for packing sports gear like snow apparel, gloves and snow goggles. Specific use bags are pretty straightforward. The benefit of specific use bags is that they fit oddly sized and shaped winter gear well, so you can rely on a ski bag or snowboard bag to fit your gear well, whichever brand you buy. The main thing to pay attention to in snow gear bags is durability. When choosing a general use bag, you can start by gathering up all your snow gear and snow apparel into a pile and taking a rough measurement of how much stuff you want a snow gear bag to contain. Once you know the size you want, you can choose the style of bag you prefer -- duffel or backpack, wheels or straps or both. As with specific use bags, try to choose a bag that is known for being durable. Regarding materials, you can find snowboard bags, ski bags and bags for general snow gear made from nylon, polyester, PVC-coated nylon or some combination. PVC is known to be the most durable of these fabrics, but most of the snow bags you'll find are made from decently tough fabrics. Many fabrics are measured in denier; lower numbers mean smaller threads. It actually measures weight, but lower denier fabrics are thinner and have a tighter weave. Ski bags made of microfiber, 1 denier or less, get excellent reviews on water repellence.

Car racks.

You may be able to make do by sliding your skis or snowboard inside your car, but car racks make transporting skis and snowboards so much easier. Most ski and snowboard racks simply clamp over your winter gear, keeping your gear securely fastened. Ski racks and snowboard racks are designed specifically for snow sports equipment, which does limit the available room for other things. Another winter sports accessory that simplifies transporting your gear is cargo bags. Cargo bags and carriers are like luggage: They come in soft-sided and hard-sided models and are a great equipment accessory in these days of smaller and smaller cars. If you sometimes take a lot and sometimes take very little, choose the flexibility of cargo bags. If you need protection and security, solid cargo carriers (also called pods) are the choice.