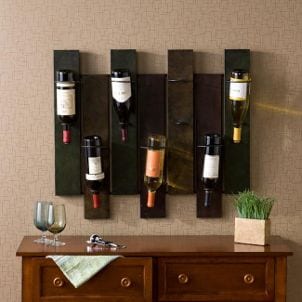 Keep bottles of your favorite wine fresh for years with the proper wine storage. Whether you need wine racks for your cellar or a wine storage refrigerator to preserve both red and white wines, home wine storage is available for both large and small spaces. Read on for tips on buying wine storage for your collection.
Storing Your Wine:

Lay all bottles horizontally. When you're shopping for wine storage racks, be sure to buy styles that hold bottles on their sides. This allows the wine to flow forward and keep the cork moist; when the cork dries out, the wine will take in air and become spoiled. Laying the bottles with the label up in wine storage systems will also make it easy to determine whether your wine has collected any sediment during storage.

Organize your wine as you store it. To avoid shuffling through your wine collection each time you want to find a certain vintage, organize your wine racks by year, by type or by brand, depending on how many bottles of wine you have. This method of wine cellar storage will protect your bottles from damage and make it easier to find the wine you want.

Keep your wine in a secure place. If you can, put your home wine storage somewhere it won't be disturbed often. Vibrations from cars, appliances and heating sources can shake your wine storage systems and affect the quality of your wine. A wine storage cabinet with sturdy doors will ensure that your wine is secure.

Store your wine in a dark place by itself. Try not to expose your wine bottle storage to direct sunlight or fluorescent light fixtures; UV light will destroy your wine's taste and smell. When you do open your home wine storage to select a bottle, use incandescent light to see. Make sure that your wine storage racks are isolated, too. Because wine corks allow air to pass through, your wine can be contaminated by strong odors around your wine cellar storage area.

Monitor the temperature and humidity. Wine should be stored in a cool place with a constant temperature so it can age properly or keep its flavor well. A wine storage refrigerator can keep both red and white wines at their ideal temperatures while they age. However, you can also keep your wine bottle storage in an area with about 70 percent humidity and a wine storage temperature of around 55 degrees Fahrenheit.

Don't store your wine for too long. While some wines can be aged for up to 20 years, most wines you buy will not keep for that long. Be sure to check your wine storage temperature frequently so that your collection stays fresh and drink wine long before it begins to deteriorate.

Buy Wine Racks
Back to Guides Directory