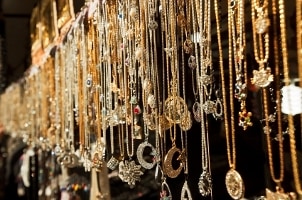 Buying wholesale jewelry can save you a lot of money and time. When you find the perfect jewelry style to use for your community musical or to give as gifts, it's wonderful to be able to purchase in bulk and at wholesale prices. How can you make the most of wholesale jewelry? Many occasions present the need for great jewelry at a great price.
Buying Wholesale Jewelry:

Gifts: Jewelry is the perfect gift. If you enjoy assembling gift baskets for your closest friends, then buying gift supplies in bulk can help you save money on gifts for every occasion. Wholesale jewelry is a great option when looking for bulk gifts. Buy matching wholesale bracelets for all of your sisters or wholesale charm anklets for your friends at drum circle. Keeping some beautiful wholesale jewelry on hand makes it easy to give gifts spontaneously.

Costumes: To accessorize costumes for your community play or to orchestrate a group Halloween costume plan, look for wholesale jewelry. A set of six matching pairs of chandelier earrings turns your group of friends into Bollywood stars. Accessorize your dance company with wholesale jewelry to create an authentic performance. Wholesale jewelry is affordable and available in many styles to suit your costume needs.

Jewelry creation: If you like to make your own jewelry, consider buying wholesale jewelry pieces to enhance your own creations. Wholesale gemstone pendants are perfect for stringing onto your handmade beaded necklaces. Bulk charms will add a lot of sparkle to your handcrafted link bracelets. Use wholesale jewelry to make your own jewelry creations sparkle and shine.

Party favors: Giving jewelry as favors at an upscale dinner party is a fun way to spoil your friends. Buy wholesale jewelry that matches the theme of your party and make gift bags or offer jewelry at each place setting. Give wholesale jewelry at bachelorette parties, St. Patrick's Day treasure hunts, Easter dinners, birthday get-togethers and winter holiday bashes. Choose from a variety of wholesale necklaces, rings, bracelets and earrings. Give strands of pearls at pirate-themed parties and gemstone rings at 1950s throwback dinner soirees. Wholesale jewelry makes it possible to throw elaborate gift-laden get-togethers.

Buy Wholesale Jewelry
Back to Guides Directory