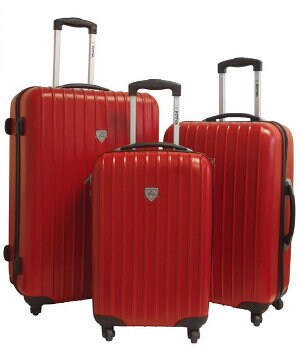 There are many kinds of luggage for you to choose from, but rolling luggage remains a very popular option. In fact, rolling luggage is so popular that most luggage online will have wheels and handles so you can pull it behind you. If you're still using an old, hard suitcase or worn-out duffel, keep reading to discover why you need to upgrade to wheeled luggage.
About Rolling Luggage:

Small rolling luggage can double as carry-on luggage. Rolling luggage comes in a variety of sizes, but small rolling luggage can often double as carry-on luggage. If you travel a lot for business meetings, choose rolling backpacks that will protect your laptop and keep it within sight as carry-on luggage. Rolling duffels are another good option because they are spacious and have multiple pockets. Purchase a wheeled luggage set that has a suitcase suitable as a carry-on so you can have a matching luggage set and all the great benefits of wheeled luggage.

Rolling luggage reduces stress and strain. Luggage without wheels can cause all sorts of physical discomfort as you tote your things from place to place; backpacks, duffels and suitcases strain your arms and shoulders and limit how many bags you can carry at once. Wheeled luggage eliminates or greatly reduces both problems. Rolling duffels and rolling backpacks give you the option of rolling or carrying your bags, depending on their weight and what other things you may need to carry, while rolling luggage in general is designed to be easy to pull behind you. Invest in kids' rolling luggage for your children; when they have luggage that is easy to move, they can pull it themselves and have some fun doing it, too, saving you the stress of carrying it yourself.

Rolling luggage is easy to maneuver. In addition to reducing physical stress and strain, rolling luggage is easy to maneuver around a busy airport, hotel lobby or just out to the car for a road trip. Luggage sets may have many pieces, but when they are wheeled, taking them all with you is not a hassle. When you're looking for luggage online, find wheeled bags with sturdy telescoping handles and either inline wheels or spinner wheels; rolling luggage with extra straps to hold down toiletry bags or carry-ons are also great options. Kids' rolling luggage is especially easy to maneuver, since it is smaller and lighter than the adults' suitcases.

Buy Wheeled Luggage
Back to Guides Directory