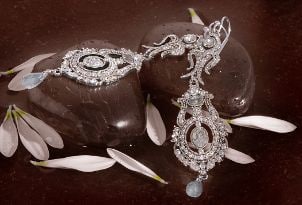 If you adore fancy decor, then you will love chandelier earrings. When you enter a fancy ballroom, the first thing you see is the stunning chandelier glistening above your head. Chandelier earrings have the same effect on a smaller scale. Your eyes will automatically be drawn to the sparkling, dancing gems and shiny metal. If you're looking to expand your jewelry collection, consider earrings that look like miniature chandeliers. Many styles are available to bring color and shine to your earring assortment.
Reasons to Buy Chandelier Earrings:

You love movement. If a ballet dancer astounds you and falling foliage always catches your eye, then you appreciate the beauty of movement. Though stud earrings sit still on your earlobe, drop earrings dance with every little movement of your head. Chandelier drop earrings are decorated with sparkling gems and beads, adding even more movement to the jewelry.

You like to dress up. The right jewelry takes an average outfit from boring to fantastic. If you wear the same black dress to every cocktail party, then you should collect pretty jewelry in a variety of styles to keep the look fresh. Chandelier earrings come in silver and gold, as well as bright colors. They are often decorated with diamonds, gemstones and pearls. If you regularly dream of attending fancy balls and mod galas, then invest in jewelry that will make you feel like a princess. Elegant diamond chandelier drop earrings will help you dress up anything in your closet.

You have a round face. Just as with hairstyles, earrings can help balance out the shape of your face. Long chandelier earrings have a slimming effect on round and square faces. Women with round faces can wear very long chandelier earrings with gemstone fringe. Experiment with new styles to find the best dangling earrings for your face shape.

You identify with Indian culture. Elegant dangling earrings are popular in Indian styles. If you love the fashions of Bollywood films, then intricately decorated chandelier earrings will delight you and add flair to your wardrobe. Show up at a party in a sari-inspired dress and Indian-style chandelier earrings to live out your Bollywood fantasies.

Buy Chandelier Earrings
Back to Guides Directory