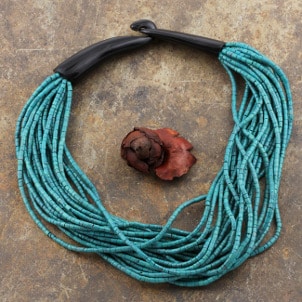 A string of blue and green gemstones around your neck will complete any breezy summer ensemble. Turquoise has long been a favorite gemstone for its gorgeous hues, interesting range of patterns and versatility. Turquoise jewelry was prized by many ancient cultures, including the Egyptians, the Aztecs, the Persians and the Native Americans. Beaded turquoise jewelry offers you an easy way to try this gemstone without making a huge commitment to a dramatic turquoise piece. Beaded turquoise jewelry is both modern and bohemian. Use our tips about turquoise jewelry to decide if turquoise beads are right for your gemstone jewelry collection.
Beaded Turquoise Jewelry:

Your birthday is in December. Turquoise is the December birthstone, which offers December babies the perfect excuse to indulge in turquoise beads. A beaded turquoise bracelet, necklace or pair of dangling earrings is the perfect gift for anyone who celebrates a December birthday. Impress your wife, best friend or mother-in-law with birthstone jewelry know-how.

Blue-green jewelry complements your eyes. Your gemstone jewelry should add the right amount of color to a neutral outfit and bring out the hues in your skin tone and eyes. Blue and green turquoise beaded jewelry offers intense hues to complement any skin tone and eye color. Try a beaded turquoise necklace or bracelet when you need an extra bit of color.

You love dreaming about ancient civilizations. Turquoise is an ancient gemstone. Turquoise necklaces and other decorative items have been found at early Egyptian, Aztec, Persian and Puebloan sites. Turquoise is associated with Southwestern jewelry and is commonly found in Native American pieces. Wearing turquoise beaded jewelry connects you to civilizations from other centuries. Turquoise jewelry carries a mystical power and brings ancient beauty to anything that you wear.

Beaded jewelry is versatile. Beaded jewelry has been fashionable for many decades, and it never seems to fade from fashion magazines. This is because beaded jewelry is very versatile. You can wear gemstone beads with jeans, skirts, dresses, suits and gowns. Turquoise beads will add a lot of diversity to your jewelry collection and allow you to accessorize with sleek and colorful pieces.

Buy Turquoise Jewelry
Back to Guides Directory