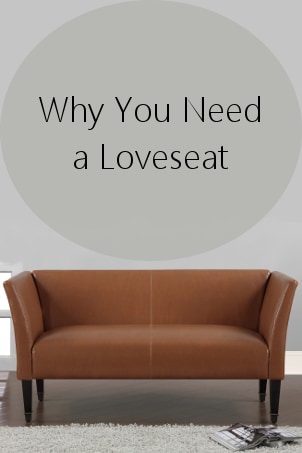 If you are decorating, you may be wondering if you need to buy a loveseat. Some rooms will benefit greatly from the addition of this piece of furniture. Here are a few decorating dilemmas where a loveseat is the answer.
Why Buy a Loveseat:

Because you need to create a conversation area: If you already have a sofa, but you need seating across from it, then consider a loveseat. This will complete the seating area in a way that allows a group of people to relax and talk. You could do a pair of armchairs, but a loveseat creates a cozier arrangement.

Because a sofa won't fit: Sometimes a loveseat takes the place of a regular couch. If you don't have enough room for a full-size couch, then try a loveseat. Smaller and more compact than a traditional sofa, a loveseat will add additional seating without taking up too much room. Loveseats are usually around 63 inches long, while sofas are sometimes 80 inches or more. Take a measurement of your space to see which will fill the space while still allowing you to walk around comfortably.

Because you need a splash of color: If you bought a sofa in a neutral color, add a bit of color to the room with a brightly patterned loveseat. They often come in more colors and fabrics than standard sofas, so this is your time to find a piece that will make a statement.

Because you're fitting a sitting area into a smaller room: If you want to add a small sitting area to a bedroom, an enclosed porch, or home office, try pairing a loveseat with a small accent chair. With those two pieces, you'll be able to create a conversation area without overwhelming the room.

Because you don't want to use a bench: A bench is often used at the foot of a bed or in a foyer, but if there aren't any benches that appeal to you, start looking at loveseats. A small one will take up about the same amount of space, and the addition of a back will make it that much more comfortable. Similarly, you could use a structured loveseat as a banquette at your dining table.
What Do You Want to Do Next?

Shop Leather Loveseats
Shop Fabric Loveseats
Shop All Loveseats
See All Guides
Read More Furniture Guides
Learn More about Living Room Furniture