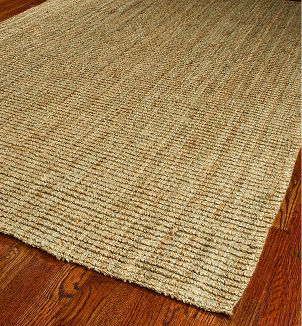 Add exotic texture to your living room or bedroom with a simple jute rug. Jute, also known as hessian, is a long vegetable-fiber spun into coarse strands commonly used to make burlap fabric. These natural fiber rugs are often hand-woven using hessian and other plant fibers, making them organic home decor pieces. Read on for a few reasons to buy a jute rug and tips on purchasing the perfect rug for your home.
Benefits of Jute Rugs:

Jute rugs give every room texture. When you want to add unique flooring to your home, a natural jute rug is the perfect accent piece. Look for a hand-woven braided jute rug you can place in the entryway of your home or buy natural rugs for your living room to complement your couch and other furniture. A sisal jute rug, which combines two plant fibers, will add a smoother texture to your home and set off natural wood decor.

Jute rugs are durable. Jute area rugs are woven from thick fibers and are naturally brown in color, which makes stains less noticeable. You can vacuum your sisal jute rug frequently to remove dirt and dust; it does not require special everyday care. While the weave of these area rugs is tight, they do not hold up as well in a hallway or similarly busy area. When placed in a low-traffic area, such as a bedroom, these natural rugs can last for many years.

Jute rugs are eco-friendly. Why spend a fortune on machine-made area rugs when you can support the environment with styles made from jute fabric? These natural fiber rugs provide a stylish, raw texture to your home, and should you ever decide to change your decor, they are recyclable and biodegradable. Jute is a fast-growing fiber, so production of jute area rugs does not harm the environment.

Jute rugs work with any home decor. Whether you like contemporary design or a vintage vibe, a natural jute rug will add the finishing touch to any room. Buy a rug made of bleached jute fabric for a clean, laid-back feel or look for a sisal jute rug with a dark brown edge for a different look.

Buy Natural Fiber Area Rugs
Back to Guides Directory