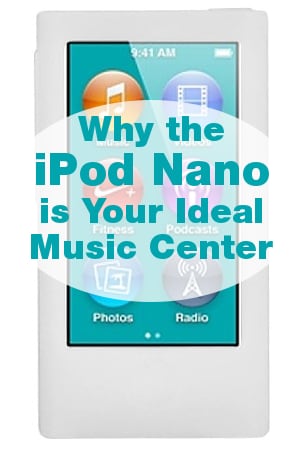 Not often do you find so much entertainment in a package as small as the iPod Nano. This little MP3 player can become the center of your audio world, functioning as both your portable music player and as an audio source for your home or car stereo. Here are a few of the highlights that make the iPod Nano the ideal music center.
Your iPod Nano Music Center:

Holds all your music: Since several iPod Nano generations contain as much as 16 GB of storage, you can store thousands of songs. With that much storage, you can listen to your MP3 player until the battery runs out and never hear the same song twice. The quality of the listening experience on the iPod Nano is superior to other technologies as well. The solid state memory means you're listening to skip-free music, even if you accidentally drop your Apple iPod.

Works with many music file formats: Chances are that your music library includes more than just MP3 files. With the iPod Nano, that's not a problem. Your Nano will play many different formats. Which file types are supported will vary with each generation of the MP3 player, but they usually include MP3, WAV, AIFF, and AAC file formats. Of course, all Apple iPods function with Apple's lossless format, which you can download from the iTunes store.

iPod Nano is dockable: The Nano doesn't just limit you to your headphones. With the docking interface, your iPod Nano can become the center of any number of audio systems. Plug into your home stereo to take advantage of the larger speaker system. You can also connect your Nano to a docking station on your alarm clock or to a pair of portable MP3 player speakers. One of your best options is to take your iPod Nano with you on the road, connected to your car stereo through a USB connection or iPod adapter, or you can use Bluetooth with the newer Nano generations, if your car also has Bluetooth technology.

Portable audio wherever you go: For its storage capacity and ease of use, the iPod Nano is still the superior choice as a portable MP3 player. It's small enough to fit in your pocket, which makes the Nano perfect for jogging, commuting, and just listening to music and podcasts anywhere.

Video with some generations: Not all generations of the iPod Nano support video playback, but it's a great option if you plan to watch TV and movies on your iPod. You can even record video with the newer Nano models.
What Do You Want to Do Next?

Shop MP3 Players & iPods
Shop MP3 & iPod Accessories
Shop All Audio & Video
See All Guides
Read More Electronics Guides
Learn More about Audio & Video