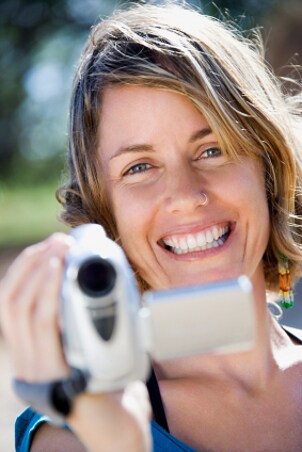 When choosing a camcorder, you have a lot of factors to consider. You may want a DVD camcorder for recording directly to disc or you may want a digital camcorder. You may want to consider whether you'll be shooting mostly inside or filming in the great outdoors. Samsung camcorders sport features for all types of shooting. And on several points, Samsung camcorders simply shine. Here are some of the standout features of Samsung camcorders that may captivate you.
Highlights of Samsung Camcorders:

LCD display: Samsung has demonstrated their superior picture quality with LCD screens for TVs, monitors and cell phones. The LCD displays on Samsung camcorders are no exception. You'll see the images you're shooting in stunning clarity and remarkable color reproduction.

White balance control: Your eyes adjust to different types of light very well. Camcorders have to work a bit harder at it, which can result in blue or yellow-tinged scenes in different lighting situations. Samsung camcorders have gone a long way with white-balance controls to adjust to cloudy, daylight, low-light and artificial lighting conditions.

HD capability: An HD camcorder is the best way to capture special moments, beautiful scenery and everything else you record in stunning detail. Samsung camcorders that film in HD can capture video at full 1080p resolution and record still images at even higher resolutions.

Optical zoom: Optical zoom is superior to artificial digital zoom. And Samsung camcorders feature up to 10x optical zoom, which allows you to film those long-distance shots as if you had a telephoto lens.

Multiple connection ports: One major convenience with Samsung camcorders is the multiple connection options you have for transferring your video to your computer or TV. Component and composite video ports are pretty standard, but Samsung camcorders also feature USB and mini-HDMI ports for transferring high-definition video.

Buy Samsung Camcorders
Back to Guides Directory