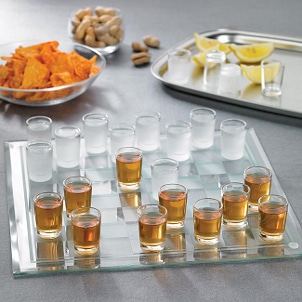 Well established as a party-perfect vessel for drinks, the shot glass is a legendary piece of barware. Shot glasses serve a multitude of functions and give any event the fun feel of a party. While at first shot glasses may not seem like a conventional home item, they have actually become common additions to even the most traditional of homes. Wondering when to buy shot glasses? Keep reading for the perfect times, places and reasons to buy shot glasses.
Uses for Shot Glasses:

As wedding favors: Wedding receptions are the perfect place for shot glasses. Already celebratory by nature, any reception can benefit from a memorable favor given as a gift to attendees. Creative brides and grooms can have shot glasses engraved or printed with a symbolic picture or word, or with the more traditional names and wedding date. Giving a shot glass to departing guests ensures that guests will think of the happy couple in the future when they pull out those shot glasses to celebrate their own events.

At parties: If the event you're hosting is less formal than a wedding reception but still worth celebrating, then shot glasses may still have a place in your party planning. Shot glasses work well to help break the ice and, like other barware, are available in plastic these days.

To measure drinks: In addition to adding fun to events, shot glasses can also be used in cooking. Many recipes call for liqueur to add flavor; the standard shot glass holds 1.5 ounces and is an easy unit of measure to have on hand.

On game night: Shot glasses can be more than just barware, they can be put to use as game pieces. Use shot glasses as checker pieces and take a shot every time your piece gets jumped, or invest in a shot-glass specific game and just follow the rules. While shot glasses might not seem family-friendly at first thought, consider filling them with sparkling apple juice to make family game night more festive.

As gifts: Shot glasses are the perfect last-minute or hostess gift. Available in colorful patterns, unique designs and modern shapes, they can match any decor and instantly brighten any barware collection.

Buy Shot Glasses
Back to Guides Directory