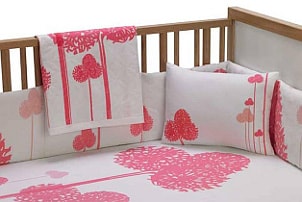 When you're buying a crib mattress, paying attention to baby mattress ratings can help you find the best mattress for your baby. Baby mattress ratings are particularly helpful when you're shopping for baby mattresses online, since you won't be able to look at a sample in the store. Crib mattress ratings can help parents choose the best baby mattresses for their child's age and sleeping habits. Reading baby mattress customer reviews and ratings, however, can be confusing; different parents are sometimes looking for different qualities in a crib mattress. The following tips can help you determine what to look for in crib mattress reviews and why baby mattress ratings matter.
Baby Mattress Ratings:

On the inside: It's hard to determine the quality of a baby crib mattress just from looking at it, especially when you're shopping for baby mattresses online. This is because most of what you need to know is on the inside of the mattress, including construction and firmness. Read customer reviews of baby mattresses to find out what other customers think of a specific crib mattress. Is the mattress foam or spring coil? Is the mattress firm and is it made of quality fabrics? Other parents will have tested the baby mattress and posted a baby mattress costumer review based on their experiences with it.

Size: While most crib mattresses are a standard size, the fit inside a crib can vary. Since the size of a baby crib mattress is an important safety issue, you'll want to do some research by reading baby mattress customer reviews that discuss the size and fit of a mattress in the crib. Some baby mattress ratings will tell you if a mattress fit snuggly in a crib or if it left dangerous gaps between the edge of the mattress and the crib bars. Crib mattress ratings can even verify if the dimensions listed on a website are true to life.

Firmness: The firmness of a baby mattress is one of the primary safety concerns, so you'll want to make sure the baby crib mattress you purchase is nice and firm before placing it in your baby's crib. Read the baby mattress customer ratings and see what other parents are saying about the firmness of the mattress. Does the mattress feel too soft or sink when your baby stands on it? Professional crib mattress reviews and baby mattress customer ratings can help you determine this information.

Extra features: Many crib mattresses have extra features. Some are waterproof, some are dual-sided to convert into a toddler bed later on, and some baby mattresses are even organic. If you're looking for special features like this in your crib mattress, baby mattress review ratings are the best place to find the information you're looking for. Other parents will submit baby mattress review ratings for these features, helping you make the best decision possible when you start shopping for a baby mattress.

Buy Baby Baby Mattresses
Back to Guides Directory