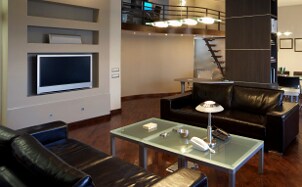 When you're setting up an entertainment room, your TV will be the focal point. Where and how you decide to mount your HDTV will affect the placement of your furniture and the quality of your viewing experience. The variety of TV mounts allows you to choose just about anywhere in your home as the location for your TV. Here are some places to use a television mount to secure your HDTV.
TV Mount Locations:

At seated eye-level. You can place TV mounts just about anywhere, but that doesn't mean you want to. Whether you're using a wall mount, a ceiling mount or a TV stand, make certain that your TV screen is at eye level. If the TV is too low or too high, you may be craning your neck into an uncomfortable position.

Over the fireplace. If your mantle isn't too high, you can place tilting TV mounts above the fireplace. Using a TV wall mount here may require you to secure mounting bolts into brick or rock, so make sure your fireplace can hold a flat TV mount without crumbling or receiving other damage.

From the ceiling. Ceiling TV mounts are great because you can hang the TV away from a wall. If you're not stuck next to a wall, you can find the ideal place to put your TV, changing the entire focal point for the room.

Under kitchen cabinets. Small LCD TVs are great for the kitchen, and certain models can use swiveling or folding TV mounts that fold out of the way when not in use.

Within the viewing angle. Viewing your TV from an extreme angle can be uncomfortable. And with some TVs, picture quality will begin to degrade at extreme angles. Use TV mounts to position your TV so that it faces the viewing area head-on.

Away from light sources. Some HDTVs have reflective or semi-reflective screens, which can create glare. Try to use TV mounts to face the screen away from windows and bright light sources.

Above your workstation. Most HDTVs work well as computer monitors. And using TV mounts to place your screen on a wall can free up desk space or provide a more comfortable viewing position.
TV Mount Tip:

TV mounts need to attach to solid materials, like studs or ceiling beams. Make sure the TV mounts you use are properly installed and rated for your TV's size and weight.

Buy Television Mount
Back to Guides Directory