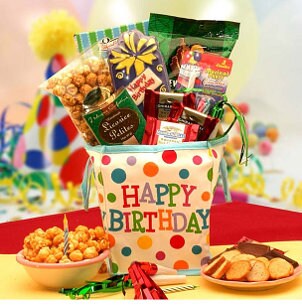 Giving a gift basket to a friend is a thoughtful way of showing you care, and a basket filled with gourmet foods and specialty treats can brighten anyone's day. Food gift baskets are often wrapped in decorative paper and trimmed with ribbon, ready for delivery or giving in person. If you want to honor special events in your friends' lives, surprise them with beautifully decorated food baskets.
Friendly Food Gift Baskets:

Occasions: Food gift baskets can be a welcome gift for a number of special occasions and events. Occasions where it would be appropriate to send a gift basket to a friend include birthdays, anniversaries, job promotions, holidays, new home, graduation, new baby in the family and hospital stays. When your friend is going through a difficult situation, a food basket with a thoughtful note will brighten her day.

Types: The different types of food gift baskets you can send to a friend include muffin assortments, cheese and cracker assortments, chocolate treats, savory snacks, breads and sweet bread loaves, cookies, candy and popcorn assortments. Food gift baskets may be complemented with a bottle of wine, tea, coffee, hot chocolate and a handwritten card, depending on the occasion.

Themes: Consider your friend's personal tastes and hobbies; then purchase a gift basket with a theme. Common themes of food gift baskets include healthy-lifestyle gift baskets filled with low-fat gourmet snacks and treats, get-well-soon baskets filled with fruit and flowers, thank-you gift baskets filled with a selection of gourmet foods, "cheer up" gift baskets filled with chocolate and other sweet treats, vegan gift baskets filled with vegan baked goods, vegan coffee and other vegan foods and, of course, coffee gift baskets filled with gourmet coffees, biscotti and coffeehouse treats.

Size: Food gift baskets are available in a variety of sizes to suit your budget. Smaller food gift baskets may be suitable for a friend as a token of appreciation or to say "thank you." Larger gift baskets may be more suitable for special occasions, such as your friend's birthday, an anniversary or a job promotion.

Delivery: Having a food basket delivered to a friend by mail can be a great way to surprise someone in the middle of a work day. You can also order the gift basket yourself to customize it with a personal message. Many gift basket sellers will allow you to add a personal message to the shipment if you select the mail order or online ordering option.

Buy Food Gift Baskets
Back to Guides Directory