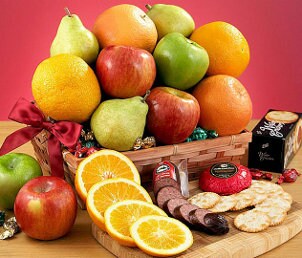 If you see a beautiful gourmet gift basket that would be perfect for someone you know, don't hesitate to buy it. Though there may not be a major holiday or gift-giving occasion anytime soon, giving an unexpected gift baskets is a great way to show loved ones how much you care. The trick to surprising someone with a gourmet gift basket is to choose one that will really impress. Consider baskets filled with decadent treats, luxurious bath products, or succulent fruits to suit the recipient's tastes.
Gourmet Gift Basket Occasions:

Relationship milestones: Your wife may not remember the anniversary of your first date like she remembers your wedding anniversary or the day you proposed, so surprise her with a gourmet gift to show her how much you appreciate the details of your relationship. Gourmet baskets filled with chocolate or wine make great gift ideas for relationship milestones. Celebrate your first kiss or the anniversary of your first romantic vacation with a luxurious gift basket filled with scented candles and opulent bath products.

Support for a friend: If you know someone who is going through a tough time in life, show your love and support with a gourmet gift basket. Stressful experiences can easily wear someone down. If your best friend is going through a divorce, then lift her spirits with a delightful gift basket filled with her favorite candy or salted snacks. If your neighbor is mourning the loss of a beloved pet, show your condolences with a basket of cheese, crackers, and wine. These thoughtful gift ideas allow you to show your support when life takes its toll.

A new neighbor: Welcome a new neighbor to your block with a gourmet gift basket. Choose gift baskets brimming with cookies, filled with assorted nuts, or stuffed with gourmet meal ingredients. You'll be creating a new friendship with a neighbor by welcoming her with a fancy gift basket.

Unexpected holiday gifts: If you love to give gifts, then don't wait for Valentine's Day or Christmas to hand out gift baskets. Give gourmet baskets to friends and family on Easter, Halloween, St. Patrick's Day, Independence Day, or Thanksgiving. Your friend's favorite holiday will mean even more when you surprise him with a gourmet gift basket.

Buy Gift Baskets
Back to Guides Directory