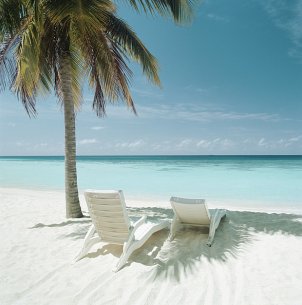 The perfect list of what to take on a trip to the beach depends on who is coming and how long you'll be staying. For example, if you and your significant other are going to the beach alone, you will most likely bring far less than if you were bringing your entire family. Packing more things in your luggage than you think you'll need will ensure that your beach trip never has a dull moment.
Beach Trip Packing List:

A beach bag: You'll need a tote bag that's large enough to carry all of your necessities for the day. It's helpful if the bag is waterproof, but it should at least be washable, so you can clean sand and spills when the day is done. If you're traveling a long distance to the beach, this bag could also be the carry-on you use on the plane or the bag you use for road trip supplies.

Beachwear: Bringing the right clothes and accessories is essential at the beach. Swimwear is a must, and you'll want to bring some kind of cover-up; this could be a sarong for women or just shorts and a T-shirt for kids. Many beaches get chilly in the evening, so it's a good idea to bring a hoodie or light jacket if you'll be staying late in the day. Sunglasses are important for protecting your eyes, and you'll want flip-flops or other casual sandals for walking on hot sand. A sun hat or baseball cap is also a good idea, especially if you'll be spending more time relaxing on the shore than in the water.

Something to sit on: Start by giving each family member his or her own beach towel. If you're planning on relaxing while you watch your kids play, bring along a folding beach chair. If the whole family will be out in the sun all day, you may want to bring a shade tent, which is similar to a camping tent except it usually doesn't have a floor and may only have one or two walls.

Snacks: Depending on which beach you're going to, your food options may be slim. If you're going to a beach with some food and drinks, you can get away with packing a few bottles of water in a small cooler filled with ice and a few packages of snacks. If there's no food near the beach and you are bringing your whole family, pack a large, ice-filled cooler. Fill the cooler with sandwiches, fruit, snacks, juice boxes, and bottles of water. If your beach allows alcohol, pack beer in cans only; beaches don't allow glass bottles because if they break, someone could sit or step on the glass shards.

Beach toys: Inflatable water toys can be deflated and stuffed in your luggage; pack inner tubes, inflatable rafts, and beach balls that can be blown up with a portable pump. For young children, bring sand castle tools, like a bucket and shovel. For older children, a volleyball can create hours of fun, especially if there are volleyball courts at the beach. You may even want to bring surfboards and bodyboards. Frisbees and kites are fun for the whole family.

Safety and practical items: The beach can be fun, but take the lead and be a responsible packer on your next trip to the ocean. Spray sunscreen is a quick and easy way to protect kids who won't stay still. Use a separate sunscreen for the face and bring a lip balm containing sunscreen. Reapply sunscreen every few hours or after you've been in the water. Bring bandages, especially if you are bringing children to the beach, in case of any unexpected cuts or scrapes. For small children, bring inflatable water wings, but remember not to leave the kids unattended.
What Do You Want to Do Next?

Shop Water Sports Equipment
Shop Beach Towels
Shop Luggage & Bags
See All Guides
Read More Luggage Guides
Get More Travel Tips