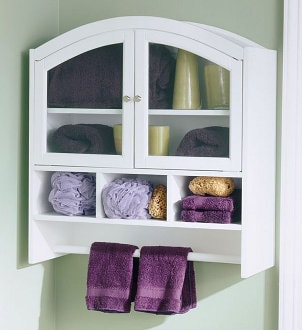 Adding one or more bathroom cabinets to a room is an easy way to increase storage space. Once you've installed the medicine cabinet, you'll need to consider what to store in bathroom cabinets. This is largely a matter of personal choice: Bathroom cabinets can be used to store any number of products, so it's up to you to decide which weights and sizes of items are appropriate for your particular bathroom furniture.
Bathroom Cabinet Storage:

Assess the size of your cabinet. Bathroom cabinets come in a variety of sizes, ranging from extra large to extra small. A larger cabinet is perfect for storing spare towels, although a small cabinet might be just the spot to rest your glasses while you shower. Pick a cabinet in an in-between size for things like toilet paper.

Assess the type of cabinet you have. You could have a wall-mount cabinet, an under-counter cabinet or even a free-standing cabinet. Bathroom vanities are also an option and can offer the combination of features you're looking for. Different types of cabinets provide different accessibility options and allow you to make the decorating choice that's right for your bathroom.

Assess the strength of your cabinet. A free-standing cabinet is strong enough to hold heavier items, but a wall-mount cabinet might only be strong enough to hold small things like mascara, lotion and a bottle of prescription pills. Consider how the cabinet is mounted when deciding if your cabinet is ready for all your hair-care supplies or better suited to a curling iron and face wash.

Determine what you need close at hand. An over-the-counter cabinet puts toothpaste and deodorant where you need them, while a free-standing cabinet placed in the corner keeps toilet paper within easy reach.

Decide what you want showing. When you choose your bathroom cabinet, you'll pick a style: open-front, closed door or a combination of the two. The style you choose will determine if you can keep things hidden or if you'll have them out on display. Closed doors are good for personal items, but an open front lets you make a style statement with perfectly stacked linens.

Buy Bathroom Cabinets
Back to Guides Directory