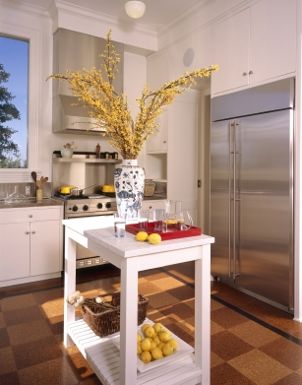 Including a handy kitchen cart with your other kitchen furniture will keep you organized and help your everyday kitchen activities go smoothly. Kitchen carts provide extra space for food preparation and serving; once you're done, or need some extra space, just wheel it out of the way. This versatile piece of kitchen furniture will keep your kitchen in line. All you have to decide is how to best optimize your kitchen cart. Keep reading for ideas on what to store in a kitchen cart.
Items to Store in a Kitchen Cart:

Microwaves. Many kitchen carts are specifically designed with microwave storage in mind. Storing a microwave on your kitchen cart keeps it at a reachable level. Keeping your microwave on your kitchen cart allows you to add permanent kitchen storage, like extra cupboards and shelves, to the room.

Pots and pans. Many pots and pans are awkwardly shaped, and they tend to take up a lot of cupboard space. Using a kitchen cart to keep your bowls and pans organized is the perfect storage solution. You'll keep your pots and pans close by for when you need them and you'll free up your cupboards for storing other necessary cooking items.

Spices and other baking ingredients. Keeping a spice rack in your kitchen cart will keep you prepared and organized for any baking emergency. Knowing exactly where your cinnamon or curry is will help you finish the job faster. Keep other baking ingredients in your kitchen cart, like flour, sugar and measuring cups and spoons.

Recipes. Many kitchen carts come with pull-out drawers. Store your recipe cards and cook books in the drawers and do the majority of your cooking and baking prep work on the top of your kitchen cart.

Towels and washcloths. Spills are common in the kitchen, so it's always a smart idea to keep a kitchen towel or washcloth nearby to mop them up. Try keeping your kitchen towels and washcloths in the drawers or see if your kitchen cabinet includes a towel rack. When you clean as you cook, you'll have less mess to deal with once your masterpiece is in the oven or refrigerator.

Knives. Make your kitchen cart the designated cutting and chopping area of your kitchen. This will help keep messes from spreading out all over the kitchen while you're cooking. In addition, you won't have to walk to the other side of the room to get the knife you need.

Food. Use your kitchen cart when you run out of pantry space. Keep after-school snacks in your kitchen cart or a bowl of fruit on the top.

Wine. Some kitchen carts come with a wine rack for easy access while cooking or for unwinding after a long, hard day.

Buy Kitchen Carts
Back to Guides Directory