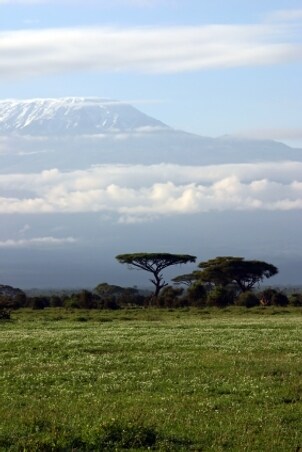 Imagine that you are planning a trip that will take you from the equator to Antarctica in seven days. Now imagine that you have to limit the amount of gear you pack to 35 pounds or less. The task is getting more complicated. What kind of luggage would you choose and how would you pack for a trip that encompasses such extreme changes in climate and altitude? When Erica Davis, a paraplegic athlete, and Tara Butcher, a physically challenged athlete, climb Africa's highest peak, they will have to answer exactly those questions.

The challenge: Mount Kilimanjaro rises from nearly sea level all the way up to 19,330 feet. The trail climbs from the hot bushland through rain forest, moorland, alpine desert and arctic glaciers up to the rocky Uhuru peak. A climb like Mt. Kili presents special challenges when it comes to luggage, clothing and gear. Being prepared for the weather and temperature extremes is a necessity, but it's also important not to pack too much. There is a 35-pound weight limit to each piece of luggage carried by a porter. Most climbers pack one 35-pound capacity bag to go up with a porter and one small daypack to carry up themselves.

The daypack: Erica and Tara will have 7 days to summit Tanzania's Mount Kilimanjaro. As they pass from one ecological zone to the next, their needs will change and so will the contents of their daypacks. Each day Erica and Tara will repack their daypacks in anticipation of the specific challenges of the day's journey. In general, their daypacks will include things like water, snacks, dry clothing, waterproof gear and sunscreen.




The importance of keeping clothing and gear dry cannot be overstated. When choosing a daypack, a small to medium backpack made of lightweight, moisture-resistant material that comes with a removable waterproof shell will be ideal. It's also helpful if the backpack has convenient access to a water bottle compartment or can accommodate a water bladder. Plenty of pockets, zipper compartments and hooks are also handy.

What to pack: A sturdy but lightweight water-repellant duffel bag with a capacity of about 35 pounds is ideal for the trek to the top of Mt. Kilimanjaro. The bag needs to have room for plenty of layers of breathable, moisture-wicking clothing and layers of fleece clothing, as well as a waterproof layer. To save space, it's a good idea to pack clothing that does double duty, such as pants that easily convert into shorts. Aside from clothing, the climb will also require accessories like sunglasses, hats and gloves, plus equipment like trekking poles and a headlamp, as well as toiletries like sunscreen, insect repellent and a first-aid kit.

Support the Challenged Athletes Foundation: Overstock.com and the C.H.E.K Institute are co-sponsoring Erica and Tara's climb to the top of Mount Kilimanjaro in order to raise awareness for athletes with physical challenges who wish to participate and compete in sports. Portions of the proceeds will benefit the Challenged Athletes Foundation (CAF). CAF raises funds to give physically challenged athletes the opportunity to stay active and competitive in the sports they love. To show your support for physically challenged athletes like Erica and Tara, donate now to the Challenged Athletes Foundation for the Fit 4 Kili Climb.

View All Luggage
Back to Guides Directory