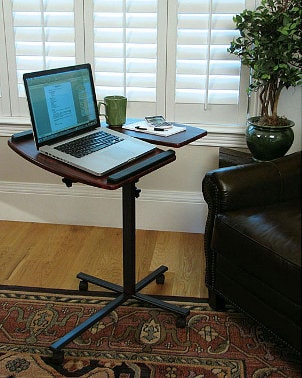 Laptops have become a part of life. You can now take your computer on the road, to school, to work and even on vacations. If you plan to take your laptop computer with you when you travel but also have a workstation in a home office, then a laptop desk can be a lifesaver. Knowing what to look for in a laptop desk can help you pick the one that's perfect for you and your home office.
Buying a Laptop Desk:

Wheels: Is it mobile? Does it need to be? Some laptop desks are designed with wheels. This can be a plus or a minus, depending on your personal work style. If you're a fidgeter who's always tapping and twitching, then a mobile station may not be your best bet (it will always be rolling away from you). If your style is to sit down when the mood strikes and work till you're done, then a rolling station might be perfect. A laptop stand with wheels allows you to easily move your home office from one room to another; if inspiration strikes in the living room, you can set up there. If it hits in kitchen, you're still good to go.

Clamps: Some laptop desks are uniquely designed to attach to existing furniture. If you like to create a workspace wherever you need one rather than committing a spot on your table to your computer, then this is the solution for you. Instead of clearing your entire desk, you can simply clear enough space to attach your laptop desk and get to work.

Foldability: Portable and semi-portable laptop desks are designed to be folded up and put away when they're not in use. If you work in fits and starts, needing a desk one week and open space the next, then consider a folding laptop desk. When assembled, it acts as a regular desk. When you're done, simply fold it up and tuck it away until you're ready to work again.

Shelves: If you're setting up a more permanent home office, it's worth investing in a laptop desk with shelves, drawers and even cupboards. You can find laptop desks in every color and configuration imaginable, so you're sure to find the right laptop desk for your situation.

Buy Computer Workstations
Back to Guides Directory