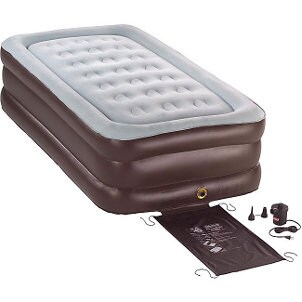 Don't let a lack of sleeping space keep you from hosting house guests, and don't let fear of discomfort keep you from choosing an air mattress. Air beds have come a long way from the saggy versions pictured in movies; cots and airbeds are a great solution to the issue of uncomfortable camping and inflatable air mattresses can make a long night an adventure instead of a hardship.
Facts about Air Mattresses:

Inflating an air mattress: If you're worried about having the lung capacity to inflate an air mattress, take heart. There's an easier option available. If the idea of inflating air beds has been holding you back from a purchase, worry no more! Many air beds are self-inflating, and those that aren't can be easily filled using an air bed pump. Pumps for air mattresses are available in foot pump and electrical options, so there's one for every lifestyle.

Air mattresses vs. traditional mattresses: Consider storage. Having an air mattress that you can inflate and deflate on a whim will help free up space when you aren't using the air bed. Secondly, consider your budget. While you may be able to find a cheap regular mattress it will most likely come at the cost of size and comfort. For a fraction of the cost of a cheap regular mattress, you're can purchase a large, comfortable air bed that your guests will prefer. Plus, should you decide to do some camping, you'll have a spare air bed mattress ready to go!

Air mattress comfort concerns: Are you concerned about air bed comfort? Unlike a regular mattress, the softness of an air bed can be adjusted by you according to your tastes and needs. Should your back require a stiffer mattress, fill the air bed to capacity. If you want a bit more squish, inflate the mattress with slightly less air.

Air mattress accessories: If you're planning to buy an inflatable mattress, it's also worth considering a new tent. The combination of a new tent and air bed will make trips to the wild seem distinctly luxurious. On Overstock.com, you'll find a variety of tents and camping supplies to make "roughing it" seem like a thing of the past! Even if you plan to use your air bed entirely indoors you can treat yourself (and your guests) to new sheets; air beds take the same standard sheet sizes as regular mattresses.

Air bed durability: Should your air bed be a temporary option you'll be thrilled to see the excellent selection of beds offered at discount prices on Overstock.com. When it's time to graduate from an inflatable mattress to the real thing, we'll help you get set up with the right bedroom furniture.

Buy Cots and Airbeds
Back to Guides Directory