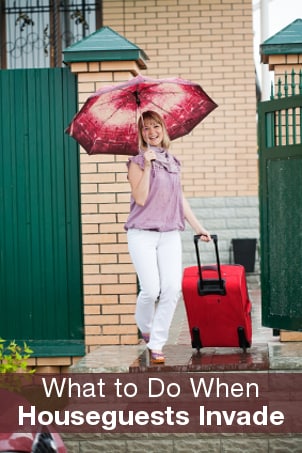 PREP YOUR HOME FOR GUESTS >>
Having extended family over during the holidays is what makes the season special, but when houseguests have overextended their welcome, you might need a break. Check out these ideas to de-stress and regroup during holiday madness.
When Houseguests Invade:

Set ground rules. If everyone knows the boundaries from the start, chances are impending visits will go much smoother. For example, if your home office is off-limits, tell your guests ahead of time. Before guests arrive, gather items that you don't want guests to use or things that can be broken by small children and keep them in a safe spot, like your bedroom closet or a safe.

Don't try to do it all yourself. If guests volunteer to help out, don't be shy about finding a task for them. It will make them feel like they are contributing and will take some of the pressure off of you to get everything done. If you're used to doing things your way, make a few notes before guests arrive of tasks that you wouldn't feel as protective of. Maybe you have a signature recipe for gravy; you should still make that. But maybe it doesn't matter as much to you how the table is set, so you can let your niece take over that job.

Get outside. Being cooped up in a small space for an extended period of time with your relatives is almost certain to cause cabin fever. Get outside and enjoy the winter weather. Depending on where you live, try to plan at least one day trip that explores what your city has to offer-- like skiing in the nearby mountains or ice skating on a downtown ice rink.

Create an oasis in your bathroom. For a place that you can go when you get overwhelmed by your company, stock your master bathroom with accessories that help you relax. Try a candle-lit bath or a spa treatment for your feet. Just a few minutes of spending time on yourself will help you feel refreshed and rejuvenated.

When you're tired of entertaining, throw on a movie. When you have houseguests, don't feel pressured to entertain them all the time. Funny holiday movies can provide much-needed comic relief, so when you need a break, put one on and let everyone hang out in silence for a few hours.

Work it out. To combat the stress caused by the combination of hosting friends or family while planning holiday activities, try not to let your usual workout routine fall by the wayside. A rigorous treadmill exercise or some calming yoga will renew your energy level.

Shop Bedding
Shop Air Mattresses
Shop All Home & Garden Products
See All Guides
Read More Holiday & Giving Guides
Learn More about Parties & Decorating