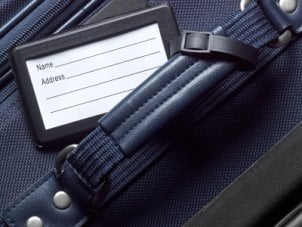 Luggage tags are one of the most important travel accessories you can own. Whether you are flying internationally or taking a short trip, luggage tags can help make identifying your luggage a quick and easy process. Personalized luggage tags are also essential in the event your luggage is misplaced. The proper information to put on your custom luggage tags depends on the type of luggage and how it is transported.
What to Put on Luggage Tags:

Checked Luggage: Checked luggage should always have two luggage tags per bag. Place a strong luggage tag on the outside of your luggage. Choose a color or pattern that is visible at a distance to make locating your luggage simpler. On an external luggage tag, put your email address, first initial and last name as well as a phone number at which you can be reached during your travel. For privacy, limit the information listed on an external luggage tag. If an airline needs additional information, they will look inside your suitcase. Place a second tag prominently inside your suitcase that is visible as soon as your bag is opened. Put your contact information and your travel destination, likely itinerary, contact information for your return trip and alternative contacts for your destination and hometown on the internal tag. This internal luggage tag may be used if your bag is lost or the external luggage identification is destroyed. You want to make retrieving your luggage an easy task, no matter where you are in your journey.

Carry-on Luggage: Carry-on luggage should have two luggage tags, too. Place one tag inside your bag that duplicates the information you place in your checked luggage. The external tag should have your full name, flight information and cell phone information. Always consider that your carry-on bag may turn into checked luggage if storage compartments become full before you board the plane. Consider having everyone in your traveling party use identical tags for all your hand luggage. This way, anyone from your group who sees a bag without its owner will know it belongs to your group.

Children and Gear: Put luggage tags on your children and on any gear they may have. If you are traveling with your child, luggage tags should have your name, contact information in route, emergency contact numbers and schedule information. Avoid placing your child's name on these luggage tags for security purposes. Place these tags on strollers, diaper bags, car seats, backpacks and any handbags your child may be carrying. The goal is to provide enough information to get your child back to you quickly in the event you are separated. For added security, place your picture on these identification cards, so you can be matched to your child easily. If your child is traveling with someone other than you, place the child's first initial, last name and the name of the adult responsible for your child on the tag.

Buy Travel Accesories
Back to Guides Directory