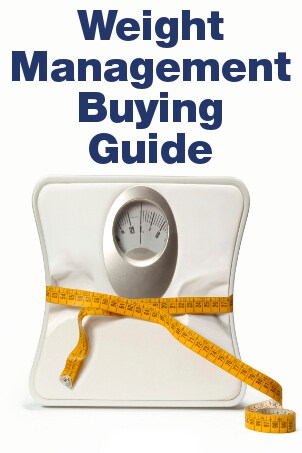 Staying healthy may seem tricky, but with a little help and a few tools, proper weight management can be much simpler. This buying guide is here to help you sort through the options and make sure that your fitness and nutrition concerns are taken care of.
Managing Your Weight:

Weight gain: Whether you are an athlete who needs to put on weight in order to compete at your best or someone who is underweight due to illness or a natural tendency toward being too thin, weight gain can often be challenging. Thankfully, several products and muscle fitness tips are available to help you put on pounds.

Supplements and Protein Shakes:

Whatever your reasons, if you need to put on weight fast, weight gain supplements and protein shakes are the way to go. Just a few years back, your protein shake options were limited to cheap powders loaded with sugars and fat as well as protein of questionable quality. The industry has come a long way since then and can help with muscle building and strength training when combined with exercise.

Biological value, or BV for short, is a term that refers to how well and how fast your body receives and uses a given protein. A protein shake with a high BV (like a whey-based protein) is perfect for strength training and muscle building, while one with a low BV (like casein, a protein found in milk) is better for slow absorption of protein, and this is meant to be taken right before bed. Protein shakes are a great complement to any workout routine and will help you with weight gain quickly.

Weight loss: Finding the best way to lose weight is a more common concern than gaining it. Decades of study have produced many tactics to address nutrition and weight management. There are plenty of products designed to help you take on healthy weight loss.

Supplements and Suppressants

Proper diet and a first-rate workout routine will always be your best bet for weight loss, but sometimes you need a little extra help. Weight-loss supplements, when used properly and in conjunction with a good weight-control program, can be an aid to weight loss. These weight-loss supplements are formulated for a few different purposes, including fat absorption or blocking, carbohydrate blocking, and appetite suppression.

Appetite suppressants acquired a bad reputation from their '50s and '60s era precursors, but current appetite suppressants are much safer and are often made from all-natural ingredients. In recent years, the FDA has stepped in and established tight restrictions on the ingredients used in the manufacture of all supplements, including appetite suppressants. The companies that produce these products responded by finding new, all-natural forms of appetite control for an effective weight-loss program.
Weight Management Tools:

Body weight scales: The first tool many people think of is a weight scale. Keeping track of weight is an essential and encouraging aspect of body weight management. Contemporary scales also offer an array of useful features, including fat meters and suggested daily calorie intakes. The features available in body fat scales are also very helpful when seeking to make specific changes to your weight management program.

Food scales: Food scales are another important tool to ensure proper nutrition. Any nutrition program would be assisted tremendously by one of these devices. Their ability to calculate calories, fat grams, cholesterol, and more in hundreds of food items is indispensable to figuring out a good diet. To use a food scale, simply place a food item on the scale and choose from over 900 matching food ID codes; the readout will give you a variety of key nutritional information, including calories, fat content, and cholesterol.

Saunas: The benefits of saunas have been recognized by cultures across the world for hundreds of years. They include some advantages to assist your body weight management program. When used properly, incorporating warm-up and cool-down routines, an exercise program can be assisted by saunas. They help prolong your exercise by increasing plasma and red cell volume to enhance your peak oxygen intake as well as helping you to sweat out toxins and chemicals. If you ever get worn out from your exercise program, saunas are also very useful for fitness and rehabilitation purposes.

Pedometers: Not all of your weight loss exercises need to take place in a pricey gym. Even the most basic everyday tasks can burn calories, like walking from the parking garage to the office. A pedometer will help you figure the steps you take and the distance you travel on foot each day; it then converts that information into a tangible number of calories burned. You can see just how beneficial taking the stairs and skipping the elevator really is.

Ketosis test system: If you're struggling with low weight loss, you might also want to consider a ketosis test system. Ketosis is a crisis reaction in the body due to a sharp decrease in carbohydrate consumption that causes you to start burning through your fat stores. Though this is a process that can be desirable when trying to lose weight, excessive ketosis can put undue strain on the liver and is the opposite of what you're trying to achieve when you want to lose weight. A test system is a great way to keep track of the progress you're making with your weight management.
What Do You Want to Do Next?

Shop Weight Management
Shop Fitness & Rehab
Shop All Fitness & Nutrition
See All Guides
Read More Health & Beauty Guides
Learn More about Diet