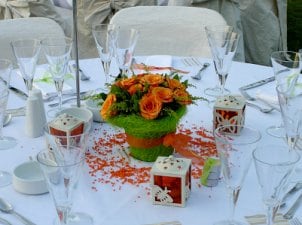 You want your wedding day to be perfect. You've already planned for all the big items, including the wedding dress, the venue and the food for the reception. You've chosen your bridal party. However, the wedding accessories can make the difference between a good wedding and a fantastic wedding. A wedding accessory checklist will help you remember the little things that mean so much.
Wedding Accessories:

Getting dressed: Your dress is stunning, but now it's time to think about enhancing your look and your comfort level. Pack enough hairpins to hold a headpiece or a tiara securely and consider wearing a pair of formal white gloves for added elegance. Remove your watch but add a delicate bracelet that matches your necklace and earrings. These items can double as the "something old, something new, something borrowed and something blue" traditional wedding accessories. Remember, the right undergarments can make a nice wedding dress beautiful. Stow an extra set of hose in case you develop a run. Pack makeup, deodorant and perfume in a single case for use when getting dressed. A pair of tweezers, a fingernail file, mouthwash and an extra comb will come in handy, too.

Ceremony and reception accessories: Your guests are here to celebrate your big day, and wedding accessories and reception accessories can make the event extra special. A guest book is an excellent wedding accessory as it will help you remember who attended, and a friend who carefully records the gifts at the reception will make it easy to send out thank-you cards. Place a disposable camera at every seat, asking your guests to take candid shots and to leave the cameras on the tables. While your professional photographer will capture all the special moments, your guests will capture the intimate essence of the celebration. In addition to the traditional table centerpieces, offer your guests a personal remembrance by placing favors at each seat. Handcrafted candies, cookies or even a personalized ornament with the bride and groom's name will remind them of your special day.

Thank the wedding party: You selected your wedding party because each person represents a special bond. Thank each one with a heartfelt gift for participating. Gift baskets, engraved mugs, personalized jewelry or cuff links will be treasured. Present the gifts at the rehearsal dinner.

Buy Wedding Accessories
Back to Guides Directory