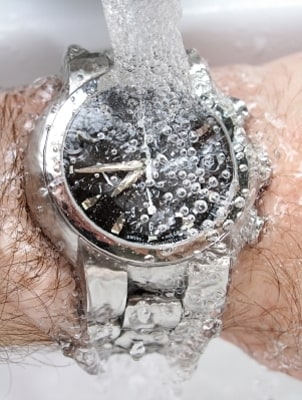 Many people shopping for watches want a timepiece that is waterproof. A watch cannot be completely waterproof because it is made of many different parts, but a water-resistant watch is a great investment, and many water-resistant watches can be worn while swimming, showering and diving. Men's watches and ladies watches can be water-resistant, and these sport watches and dive watches are available in a range of styles. Consider these facts when shopping for a water-resistant watch:
About Water-resistant Watches:

Construction: A water-resistant sport watch or dive watch will have rubber, nylon or Teflon gaskets set on the crystal, chronograph pushers and on the case at the case back. In addition, a waterproof sealant lines the case of a good water-resistant men's or ladies watch.

A screw-down crown: Screw-down crowns are standard on dive women's and men's watches. It is also sometimes called a screw-in crown. A screw-down crown has gaskets and will create a tight seal for the watch case when it is screwed in.

Maintenance and care: Water-resistant watches should have gaskets changed whenever the battery is replaced or when doing routine maintenance. Chlorine, perfume and other chemicals can harm the gaskets or sealant. Limit exposure to these materials or have your watch tested often for water resistance.

Testing: Water resistance is tested in measurements of atmosphere (ATM). Each ATM denotes 10 meters of static water-pressure. This is not the depth to which a watch can be worn. Many watch cases will list the basic measurement of 1 ATM as "water-resistant." These watches will withstand small splashes of water but should not be worn while washing the hands or submerging the hands in water.

Diver's watches: Purchase a diver's watch if you spend a lot of time snorkeling or deep sea diving. A dive watch usually has a screw-down crown and a screw-down case back. The water-resistance rating for these watches will be at least 20 ATM (200 meters/660 feet). Many high-end watches feature a helium release valve.

Water-resistance ratings: Use these guidelines to choose the right water-resistant watch:

3 ATM: meters/100 feet: Suitable for everyday use. No swimming.

5 ATM: 50 meters/165 feet: Suitable for short periods of swimming. No diving or snorkeling.

10 ATM: 100 meters/330 feet: Suitable for swimming and snorkeling.

20 ATM: 200 meters/660 feet: Suitable for high-impact water sports and some diving.

Diver: 150-200 meters/500-660 feet: Suitable for scuba diving and passes ISO regulations.

Buy Watches
Back to Guides Directory