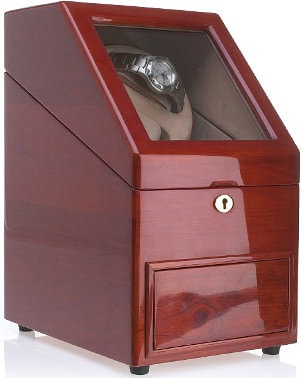 What time is it? This question has inspired generations of watchmakers to craft exquisite wristwatches with amazing skill and dedication. These timepieces feature intricate movements and elegant artistry and last for years with proper care. To keep your automatic watches in working order, invest in a watch winder. A watch winder or watch rotator is a watch box that maintains the self-winding movement of an automatic watch while it is in storage. Watch boxes and winders are available in many styles and sizes. With the information provided in this watch winder buying guide, you can search for the watch rotator and watch accessories that best suit your needs.
Buying a Watch Winder:

Why you need a watch winder: Automatic watches feature self-winding mechanical movements. When you wear an automatic analog watch, the energy produced by your arm movements winds the mechanical device and keeps it at full power. As the spring in the movement unwinds, it releases this energy to make the watch functions work. If you wear the same automatic watch every day, you are keeping the power reserve at a high level. If you own several automatics or have luxury automatic watches that you only wear occasionally, however, the power reserves will diminish, causing the movement to stop. Many timepieces feature a power-reserve register on the dial that lets you know when to rewind the watch. You can wind these timepieces by hand when they stop by winding a knob or by gently shaking them back and forth for several minutes. This method becomes a chore because the watch will also need to be reset once they are wound. Watch accessories, such as watch winders, keep your watches ready to wear at all times.

How a watch winder works: A watch winder maintains the power level in an automatic movement by rotating the wristwatch on a turntable, the spinning wheel in the watch box. A basic watch winder has one turntable which rotates at five turns per minute; some watch rotators have an adjustable schedule you can preset, while others just run until you turn off the power. Many watch winders have more than one turntable and also have extra features that are worth examining:

Most turntables rotate in a full circle; some swing back and forth. The wheel should move with a gentle motion.

Turntables rotate in a clockwise direction, and many can also rotate in a counterclockwise direction. A watch manufacturer may prefer one method over the other.

A watch winder with an adjustable turns-per-day (TPD) feature lets you fix the rotation schedule to your timepiece's specifications.

If you plan to leave an automatic watch in storage for long periods of time, look for a watch winder with an automatic daily repeat function that rotates according to your preset schedule.

Many watch winders have more than one turntable. Check to see if each wheel can be set to an individual rotating schedule.

Watch boxes: A watch winder often sits in a decorative watch case that also includes storage slots for quartz and mechanical timepieces; some may have room for a pocket watch, too. Storing your watches in a box protects them from dents and scratches. Good watch boxes come in many styles; consider these tips when choosing watch accessories and storage:

Watch boxes sit on the dresser, so they are designed to be attractive. Wood is the most common material for durable boxes, but leather watch boxes are popular, too.

Higher-end watch boxes often have fine wood finishes in rich, beautiful colors. One of the most popular finishes is a high gloss that emits a brilliant shine.

A box should have strong hinges that support the lid and keep it open while you check and retrieve your watches.

A good watch box needs to be fully lined with a soft fabric that won't scratch the finish on your watches. Also, the box should have individual slots for each wristwatch.

Padding on the bottom of a watch box helps protect your dresser or tabletop.
Tips from Overstock.com:

When you are shopping for a watch box, consider one that is large enough for an expanding watch collection. If you have a lot of men's jewelry, opt for a handsome jewelry box with compartments for watches, rings, chains and necklaces. Jewelry boxes and watch cases not only keep your accessories organized, making it easier to get dressed, but they also make beautiful pieces of home decor.

If you travel extensively, you may like to keep several watches with you to match different social occasions. Be sure to protect these valuable timepieces with their own travel case. The timepiece's original box is probably sturdy enough for travel, but these tend to be bulky. There are plenty of durable fabric and leather watch boxes available that are designed for travel. A slim watch box with slots for two to four watches slips easily into carry-on luggage and protects watches from the rough knocks of life on the go.

Buy Watch Winders
Back to Guides Directory