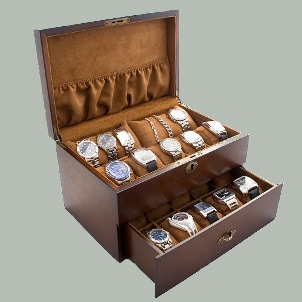 A watch box is an excellent way to store and protect your timepieces. Before you select one, however, consider these factors. If you are informed before you shop, you'll be better able to select the best watch box for your needs.
Watch Box Considerations:

Your watch box can be more than a place to keep watches. Of course, you will want your watch box to be a safe and secure place to store your watch collection, but many serve other functions, too. Some have storage for other accessories, like cuff links. Some are also watch winders, an excellent choice if you have several automatic watches.

Your watch box will likely be on display, so be sure to consider style. Watch boxes generally sit out on a dresser or table, so think about what will coordinate with your bedroom decor. Many have wood finishes, but leather is also a popular option. Box lids also vary in style from glass tops, which allow you to display your watches, to wooden or leather-covered tops.

Make sure that the watch box you purchase has a soft inner lining that won't scratch your watch while it is stored there. Velvet, felt, and suede are all common fabrics used to line the boxes.

Purchase a travel watch box if you plan to take a good watch on business trips or on vacations where you might want to dress up. A travel watch box often holds only one watch, which is often sufficient; you may choose to wear a sporty watch and pack your gold watch, for example. It's important that the box has plenty of padding to provide sufficient protection for your watch. It should also be slim enough to not take up too much room in your suitcase.

Choose a watch box that will accommodate your timepiece collection. Watch boxes can hold one watch or several, so make sure you choose one that will hold all the watches you currently have. If you are an avid collector, shop for a box that has room for your collection to grow. If you have watches with larger faces, look for a watch box with a high clearance to allow room for their size.

Buy Watch Boxes
Back to Guides Directory