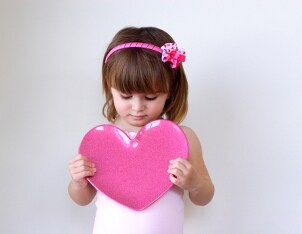 One of the best parts of Valentine's Day can be finding the perfect gift, but who says that the holiday is only about romantic relationships? It's the perfect time to tell everyone you love how much they mean to you, including your favorite little ones. Kids love Valentine's Day, and here are a few ways to make the day special for them.
Valentine's Day Gifts for Children:

Something red to wear: With some new children's clothing, your little one will be an adorable Valentine. Your little girl will steal everyone's heart in a Valentine's dress. To fit the day's theme, go for a pink or red frock. Your little guy will look quite the dashing gentleman in a boy's suit. You can add some Valentine's Day style to his outfit with a red tie.

Something cozy to wear: Since February is in the middle of winter, some boots or a new jacket for him or her would be both fun and functional. For something a little more casual, try a pajama set or a pair of slippers, something warm they will love to receive.

Something to read: Books are perhaps a bit untraditional for Valentine's Day, but a book is something that your kids can enjoy year-round and for years to come. Not only that, but the younger children can enjoy their gift with you as you read it together. There are plenty of Valentine's Day-theme books, and a classic children's book is always a great go-to. For the older kids, try a young-adult fiction book set.

Something to play with: Of course, we can't forget the best part of any holiday: toys. As adults, we look forward to the newest gadgets or maybe even some sparkling jewelry; kids can look forward to Valentine's toys with the same excitement. Does your little one like to play house? A play set will enliven the toy room. If they spend most of their play time outside, give them a ride-on or a remote-control toy and watch them keep active for hours. A board game is also always a great idea. You can play it together and get in some fun quality time.

Something to make: Many kids love making things with their hands, and a kids' craft kit helps them get results they will be proud of. Look for a craft kit that plays to their interests, like science or fashion, or choose a Valentine's Day-theme kit.
What Do You Want to Do Next?

Shop Valentine's Day Gifts
Find the Perfect Gift in Our Gift Center
See All Guides
Read More Holiday Guides
Get More Valentine's Day Gift Ideas