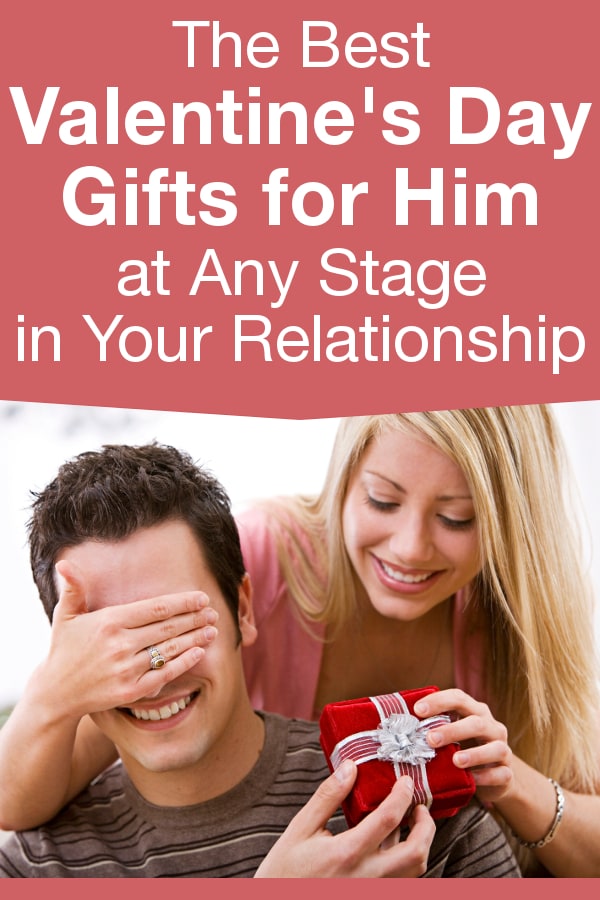 SHOP VALENTINE'S DAY GIFTS NOW >>
You love him for a hundred reasons, and you wish you could give him a hundred gifts to show him how you feel. This list will help you narrow that down to the best Valentine's Day gifts for him at any stage in your relationship.
Gifts for Your Crush:

You've hung out together a few times, maybe even gone on a date or two, but you aren't exclusive yet. Let him know you want him to be your Valentine with a gift that shows you are interested but doesn't come on too strong.
Tip:

A little flirting goes a long way, so don't feel obligated to spend a lot of money on your crush just yet.
Gifts for Your Boyfriend:

You're officially in a relationship, so your Valentine's gift can be more personal. You can still keep your gifts light-hearted, but gadgets and clothing are now good gift ideas.
Tip:

Even the least romantic boyfriend appreciates a romantic gesture on Valentine's Day, but few guys like love-theme Valentine's gifts. Steer clear of the heart jewelry and roses and keep his gifts more masculine.
Gifts for Your Husband or Long-Term Partner:

You've made a commitment to each other, and Valentine's Day is your chance to remind him that you want to be with him forever. Your gift can be as personal as you want while still reflecting the relationship you have built together.
Tip:

When you've been giving gifts to each other for years, it can be easy to get into a Valentine's Day rut. It may be tempting to just be practical, but your Valentine's gift should remind you both of why you fell in love in the first place.

Shop the Men's Store
Shop Valentine's Day Gifts
Find the Perfect Gift in Our Gift Center
See All Guides
Read More Holiday & Giving Guides
Get More Valentine's Day Gift Ideas
Published April 29, 2010
Updated February 13, 2015