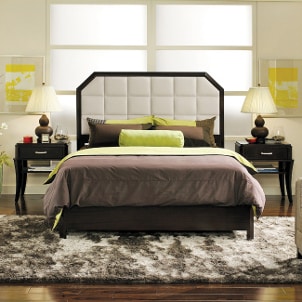 Just like fashion, home decor trends come and go quickly. Decorating and furnishing a home is a big commitment, however, so it's much harder to change out your home wardrobe to fit the pictures of inspiring spaces that you've been eyeing. The best way to keep your home current without spending a lot of money is to switch out items like area rugs and keep the main furniture. After you've invested in a few neutral pieces of furniture, follow this guide to help you find a rug that fits with the latest trends.
Choosing Trendy Area Rugs:

Try the new neutral. For a long time, dark brown or light beige was the fail-proof neutral color to use when decorating a home. However, shades of grey are quickly becoming a favorite because they highlight popular color-blocking methods. For a luxurious look, pick a plush camel or grey rug and accent it with metallic lamps and a mirrored coffee table.

Add a pop of trendy color. Colors that once seemed way too bright for a casual room, like coral and violet, are now popping up everywhere. Instead of purchasing a large sofa in one of these bright shades, experiment with an area rug. To get a color-blocked look, pair a solid-colored area rug and neutral couches with bright throw pillows or a large colored vase. When using these trendy colors, you can go really bold and make all your decor items the same shade or try a subtler mix of colored and neutral decorative accessories.

Experiment with trendsetting pale shades. Cool, pale colors, like muted lavender and light blue, give your home a peaceful feel and are the latest trend both in homes and on the runway. To incorporate these colors into your home, pick a pale area rug and accent it with different shades of grey. If you plan on using pale colors, stay away from black and white decor. Although it was popular a few years ago, the starkness of this color combination pairs better with bright colors instead of light shades.

Buy Area Rugs
Back to Guides Directory