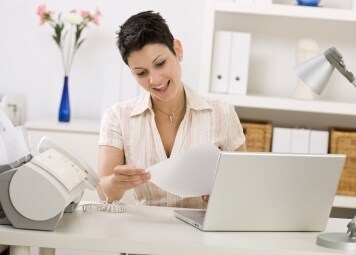 Offices of every size use all-in-one printers as copying, printing and fax centers. These multifunction printers combine several other office electronics into one machine. You can set up your own printer-sharing network, allowing each computer in your network use your all-in-one printer to print, fax and scan images. Here are a few ways you can set up your printer network.
Using All-In-One Printers:

Use a wireless printer. Many all-in-one printers now take advantage of wireless technology, including Bluetooth connectivity. You can simply run your wireless all-in-one printer through the setup utility to connect it to your wireless network. Then you can run the printer setup software on each computer, making the computers able to access the all-in-one printer through your wireless network. Wireless computers may even be able to connect directly to the printer, without the network.

Connect the printer to a router. You can use your all-in-one printer's USB or Ethernet connection to connect to your router. The router can then act as a bridge between wired and wireless devices on your office network and your all-in-one printer.

Share the printer through a networked computer. If your all-in-one printer is connected to a computer that's already networked, you can set up printer sharing on that computer, which allows other computers to access the all-in-one printer through that computer.
All-In-One Printer Tip:

Each printer is different, and your all-in-one printer may have special requirements for networking. Be sure to read the specifications carefully to be sure the printer is compatible with your computers and your network.

Once your printer is more accessible, it may see more use. Check the duty cycle to be sure it can handle the load. And don't forget to stock up on printer supplies.

Buy All-In-One Printers
Back to Guides Directory