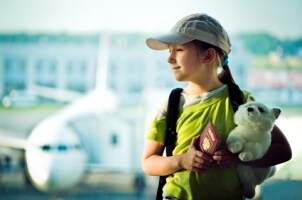 Your children already have backpacks for school; why not use their kids' backpack as kids' luggage for road trips, overnighters and flights? Using a kids' backpack as luggage is an easy way to teach your child to pack her own things and be responsible for them away from home. There are plenty of advantages to using kids' backpacks as luggage, one of the biggest ones being that it's easy for you and for your children. Keep reading to learn some of the best reasons to use kids' backpacks as kids' luggage.
Using Kids' Backpacks as Luggage:

Easy to pack: Kids' school backpacks are easy for children to pack for vacations and trips, and packing their kids' bags themselves will help them take responsibility for their things and reduce your stress. Teach your children to roll their clothes, as rolled clothes take up less space and have fewer wrinkles than folded clothes. Kids can fill up the main compartment of their backpacks with clothes, saving the second compartment, organizer pocket or top half of the kids' bag for toys, snacks or a favorite blanket. The best backpacks to use as kids' luggage will hold the necessities your children need without making the bag too big or heavy.

Easy to carry: One great advantage of using a kids' backpack as kids' luggage is that the bag is already sized to your child's height and strength. This is important because it prevents your child from overpacking her luggage, making it easy to carry. Kids' school backpacks are designed to fit small bodies, so you don't have to worry about the backpack straining your child's shoulders and back. Backpacks also distribute the weight of the load evenly across your child's shoulders, reducing strain and making kids' backpacks easy to carry to the car or through the airport. Kids' wheeled backpacks make transporting things even easier; they can wear the bag when they have other things to carry or pull it behind them.

Easy to spot: Personalized kids' backpacks are generally easy to spot in the baggage carousel if you couldn't use the bag as a carry-on, and they help you keep track of your child if he runs ahead of you on the sidewalk. Personalized kids' backpacks come with embroidered initials, bright colors and fun patterns, or you can personalize your kids' wheeled backpacks with patches, pins and ribbons. The best backpacks to use as kids' luggage make traveling easier, whether you go by car or plane.

Buy Kids' Backpacks
Back to Guides Directory