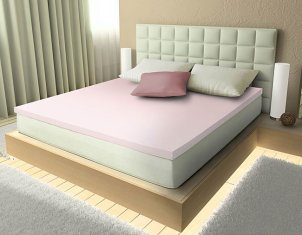 Things You Need:
Memory foam mattress topper
Tape measurer
Permanent marker
Bonding adhesive
Scissors
Old blanket
Sewing machine
In recent years, memory foam mattress toppers have become a staple in bedrooms everywhere. They provide support for back-pain sufferers and instantly upgrade an old mattress, but memory foam can also serve different purposes. Keep reading to discover a few unique ways to use a memory foam mattress topper.
Memory Foam Topper Ideas:

As a chair cushion. If you're into hands-on projects, try using your memory foam to upgrade a current sofa or oversized chair. Over time, your cushions can become worn down and saggy. To breathe new life into them, try this trick. Measure your pre-existing cushions and then mark and cut a thin layer (0.5 inch to 1 inch) of memory foam from a mattress topper. Remove cushions from the cover, place the memory foam on top and zip back up. You'll have a firmer cushion that also provides support.

In place of an air mattress for camping. Memory foam has the ability to trap heat and keep you warm, so try packing a memory foam mattress topper next time you go camping in cooler temperatures. Twin memory foam toppers can be compressed to roll up into a tight cylinder and don't require inflating like air mattresses. Using memory foam toppers will help insulate your sleeping space as well as provide a soft place to rest your head.

As a pet bed. If you have an old memory foam mattress topper, try converting it into a luxury pet bed. If you're using a twin mattress topper, fold it in half. For larger sizes, fold into quarters. Use a bonding adhesive found at home supply stores to stick the layers together. Then measure the size of your topper when folded and create a custom cover using an old blanket and a sewing machine.

To upgrade a sofa sleeper. A simple fix for an uncomfortable sofa sleeper is a memory foam mattress pad. Before placing the sheets on your sofa bed, simply place a mattress topper on top. Because memory foam is easy to compress, you'll have no trouble folding the bed back up. Let the memory foam topper decompress for at least an hour before you plan to sleep on it so it can regain its soft feel.

Buy Memory Foam
Back to Guides Directory