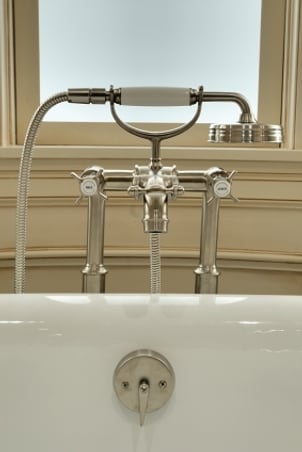 When you begin a new plumbing project, you may come across a few unfamiliar terms, especially if you're a novice at home improvement. You probably don't need to know all of them if you are simply trying to change a bath fixture, like tub and shower faucets. But knowing a few faucet terms will help you to better decipher instructions and how-to guides. So here are some common terms you'll find associated with bath faucets and other fixtures.
Bath Faucet Concepts:

Aerator: An aerator is a cap on the bath faucet's spout that controls water flow by mixing it with air to prevent splashing. Periodically, the aerator needs to be removed and cleaned to remove hard water build-up.

Valve: The valve is the part of a sink faucet that regulates water or gas flow by opening and closing the pipe pathway. Bath faucets may have one or more valves to control the flow and mix of hot and cold water.

Washer: A washer is a ring-like spacer that sits around nuts or screws to provide a wider base for the bolt or screw to sit on. You'll find washers on several parts of bath faucets, providing spacing or anchoring for different fittings.

O-ring: An O-ring is a rubber or plastic ring that fits between bath faucet fittings to produce a watertight or airtight seal.

Gasket: A gasket is a seal that fits between parts of the bath faucet or pipes to prevent leaking.

Compression valve: This is a simple valve that opens and closes by screwing and unscrewing a stem into the water way. Usually, bath faucets using compression valves will have separate handles for hot and cold water, with a separate valve for each.

Cartridge valve: Cartridge valves move up or down to align different water pathways from the hot and cold water lines in a bath faucet.

Ball valve: This is a valve with a ball-shaped disk that has a hole in the middle. The ball rotates to block the water pathway or open it. Bath faucets can use several types of ball valves to control the mixing of hot and cold water, sometimes with just one lever.

Buy Tub and Shower Faucets
Back to Guides Directory