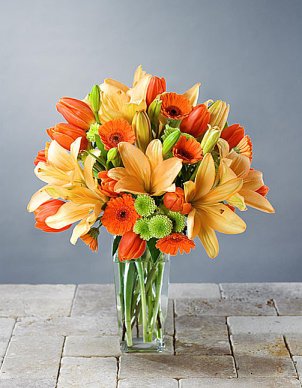 Centuries ago, wedding bouquets used to be made of smelly herbs like garlic to ward off evil spirits as the bride walked down the aisle. Since then, wedding bouquets have evolved to become better looking and nicer smelling options featuring beautiful flower arrangements. This wedding bouquets fact sheet should help you learn about the different types of flower bouquets.
Types of Wedding Bouquets:

Classic: The classic wedding bouquet is an arrangement of flowers that match the color scheme of the wedding. Some brides also opt to make their bouquets mostly white, with only a few wedding-color accents thrown in. The bouquet's stems are wrapped in ribbon or fabric to prevent the bride from snagging her dress.

A twist on classic: Over the years, additional items have been added to traditional floral wedding bouquets. Items such as feathers, beads, twigs and jewels have been used to make wedding bouquets stand out. Some people even add a piece of jewelry, such as a necklace with sentimental value, around their wedding bouquets to give it extra meaning.

Budget friendly: Single-stem flowers can be used in the place of a wedding bouquet. This is often the case when there is a strict floral budget for the wedding or when the event is nontraditional or a casual affair. The single-flower wedding bouquet makes the statement of simplicity.

Sentimental: An alternative to a floral wedding bouquet is often something such as a Bible or a rosary that has been in the family for years and passed down from generation to generation. Some brides may also opt to hold both their parents' hands as they walk down the aisle, leaving them with no way to carry a bouquet.

Temperature related: In very hot climates or for warm outdoor weddings, it is not unheard of for the bride and her attendants to carry a fashionable paper fan to help them stay cool throughout the ceremony. Likewise, a decorative muff is often used in the place of a wedding bouquet to keep the bride's hands warm for a winter wedding.

Buy Fresh Flowers
Back to Guides Directory