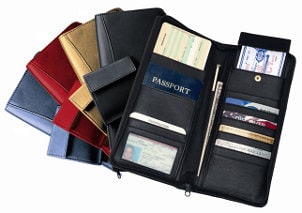 If you like to travel or want to start traveling, you need passport covers. Passport covers help you remain organized and make your travel experiences easier. While there are a number of variations on the passport cover, most can be categorized as one of the following three types. Learn which passport cover is best for your type of travel by reading these tips below.
Passport Cover Types:

Basic passport holders: A common passport holder contains clear plastic slips, which are used to secure your passport in your case. Some basic passport covers are designed like books and make opening your passport easy even while you protect it. This type of passport holder is basic yet effective. It protects the passport book and makes it easy to find if you slip it in your backpack, purse or coat pocket. To make it even more visible, consider patterns and prints in bright colors.

Travel organizers: Travel organizers are designed for convenience and easy access. Travel organizers allow travelers to place their passports, hotel reservations and plane tickets in open pockets on each side of the holder. The holders can then be folded and carried in a backpack or fanny pack.

Document cases: Document cases and travel wallets are ideal for frequent travelers. They not only protect your passport book, but also allow you to properly store and organize multiple travel documents. Travelers who frequently travel for business or leisure can use the case to organize documents on different sides of the case as well as hold a higher number of documents. Travelers who want to match their passport case to their luggage can choose high-quality leather cases in multiple colors and finishes. Differently colored travel wallets may be beneficial if you tend to forget where you've placed your passports.
Tips from Overstock.com:

Keep your passport in a secure place, such as your inside breast pocket or the bag tucked under your arm. You won't want a pickpocket to take your important travel documents. Also be sure to make copies of all your documents and keep copies in your hotel room and at home in case you lose the originals. This will make getting replacements easier.

Passport covers are only one of the travel accessories you need to make your next vacation or business trip go smoothly. Get all the luggage tags, fanny packs, TSA locks and other travel accessories you need for great deals from Overstock.com.

Buy Passport Covers
Back to Guides Directory