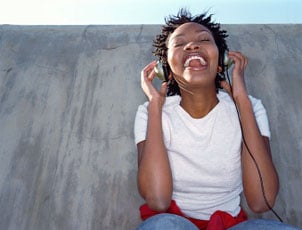 Great music should be heard through great headphones. And there are plenty of options to choose from. Each type has its own advantages. Here are the major types of headphones and their descriptions to let you choose what works best for your listening style.
Types of Headphones:

Over-the-ear: Over-the-ear headphones reproduce sounds most accurately and block external noise more effectively than other types. They are also better at reproducing low bass sounds. Over-the-ear headphones are heavier than any other headphone style and can interfere with earrings and hair, but the sound clarity and noise isolation may be worth it.

Ear pads: Also called "closed-back" headphones, these semi-open headphones are worn on the ears but don't entirely cover them. Ear-pad headsets range widely in price and quality. The audio reproduction can be very good at the high end. They are lighter and more comfortable than over-the-ear headphones but can't cut background noise as effectively. Sports ear-pads may have a headband, a neckband or clips fitting around the ear, plus an ear pad or bud. This headset design doesn't interfere with your hair, glasses or jewelry and won't fall off while you workout.

Earbuds or in-ear headphones: Many iPods and MP3 players include earbuds. These headphones rest on the ear or actually slip into the ear canal. The audio quality of earbuds varies widely. Some reviewers feel that they have better noise-canceling abilities than over-the-ear models. On the whole, they reproduce sound as well as any other type, though the bass response can't match larger headphones. Since they project sound directly into the ear canal, long-term use at high volume can cause permanent hearing loss.

Noise-cancelling: Noise-cancelling headphones use a microphone and electronic circuit as well as a speaker. All sounds have a wave pattern, which the microphone picks up. Noise-cancelling headphones then produce an exactly opposite sound wave, and the two cancel each other out. The reversed wave patterns work to counteract background noise patterns, leaving just the audio from the source. This works best in over-the-ear or earbud headphones.

Wireless: If you have to move around a lot or simply want to use your headphones away from your audio equipment, wireless headphones may be for you. Some models use radio frequencies to send audio to the headset, but other wireless devices (like wireless phones) can interfere with reception. Bluetooth headphones use narrow bandwidth transmissions to reduce interference. This produces excellent sound clarity, but the range is usually much shorter than other wireless devices (less than 100 feet).

DJ headphones: Designed for professional use, DJ headphones include some nice extras. Earpieces may swivel, so you can keep one ear open to the sounds of the environment. The DJ headphones may also fold for smaller storage. They also tend to be durable, as they see more robust use.

Buy Headphones
Back to Guides Directory