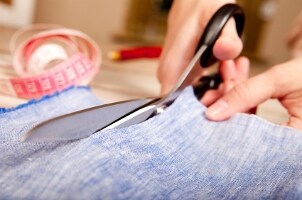 Whether you craft or sew, you know that having the right scissors for each task is essential. All-purpose scissors simply can't do all the cutting and snipping jobs you need to do for your scrapbook, embroidery project or quilt. Even having straight scissors for paper and rotary cutters for fabric won't quite do the trick. If you need a refresher course about the different craft scissors and sewing scissors out there, or if you're building your collection of craft supplies for the first time, keep reading to learn about the different types of craft and sewing scissors.
Craft and Sewing Scissors:

Pinking shears: These sewing scissors have saw-tooth blades to create a zigzag edge in fabric. Pinking shears are used for simple seam finishes on lightweight fabrics and non-fraying fabrics. A regular sewn seam might add too much thread or weight to the seams on lightweight fabrics, so pinking shears are used for a lightweight alternative. Using pinking shears on non-fraying fabrics also reduces the visibility of a blunt edge when you're pressing a seam.

Embroidery scissors: The fine art of embroidery requires scissors that can trim threads closely and accurately. Embroidery scissors are small with thin, sharp blades; this allows them to get as close to the embroidered fabric as possible. You can find embroidery scissors shaped like straight scissors, bent at almost a right angle to keep your fingers away from the embroidery hoop or with flat, spring-loaded handles like pliers.

All-purpose scissors: These are the standard craft scissors as well as the go-to scissors in the tool drawer. If you do lots of scrapbooking, card-making and other paper crafting, you need a good pair of all-purpose scissors to cut through all that paper. All-purpose scissors are usually straight shears that range in length from about 5 inches to 10 inches.

Rotary cutters/fabric scissors: These sewing shears are the standard cutters for sewing projects. Rotary cutters have a round blade like a pizza cutter; use them to cut through multiple layers of fabric or achieve special angles that are hard to cut with regular fabric scissors. When you simply need to trim some fabric or cut small pieces for appliques or scrapbooks, fabric scissors are the best tool. These sewing shears are most often shaped like all-purpose scissors, so be sure to keep them in their own special place so they don't get used to cut paper, which dulls the blades.

Quilting: There are lots of quilting scissors available, but the most important are heavy-duty shears and rag-quilting snips. With normal sewing projects, rotary cutters and fabric scissors can do the job, but if you're quilting with heavy fabrics, like denim or canvas, you need quilting scissors that will stay sharp and go easy on your hands. If you need to make small cuts perpendicular to the seam of a quilt, rag-quilting snips are your best friend. You can make rag snips without these special quilting scissors, but they'll make the cutting faster and save your hands.

Specialty scissors: Scissors need to be made to fit lots of hand sizes and lifestyles, which is where specialty scissors come in. Left-handed scissors are a great example; while you can complete some craft and sewing projects using your less-dominant right hand and standard scissors, you'll feel more confident and have more control when you use left-handed scissors. Another specialty scissor to keep in mind is the spring-action or spring-loaded scissor. These handy shears pop right back into place for the next cut with no effort from you and have handles like pliers, meaning arthritic hands have a much easier time using them.

Craft: Finally, paper crafters need craft scissors. These scissors have interesting blades that produce zigzag, curly or pyramid-shaped edges in the paper, as well as myriad other fun edges that add depth and texture to scrapbook layouts and homemade cards.

Buy Scissors
Back to Guides Directory