by Barbara T. Biehler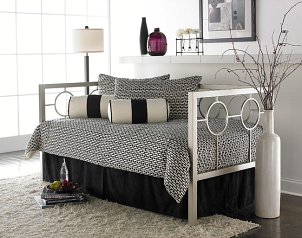 Twin beds are a great way to utilize the sleeping space in any room. Once reserved solely for children's bedrooms, the size of a twin bed makes it ideal for use in small guest rooms, multipurpose rooms or college dorm rooms: anywhere a bed is needed but where space is limited. By making a checklist of the things you'll need, you can put together a twin bed that's as stylish and comfortable as any of its larger cousins. Take a look at this twin beds checklist to ensure you maximize your bed's potential.
What You Need for Twin Beds:

Frame and headboard: With a wide variety of styles to choose from, there is a frame and headboard that will fit into virtually any size room or decor. A twin bed frame with a headboard made of wrought iron or finished wood works well in traditional bedroom settings. A platform bed, one that consists of solid wood slats and metal supports without a traditional box spring, is a contemporary style that might have drawers built in for extra storage. A trundle bed saves considerable space by storing a second twin bed completely underneath the bed on top. Daybeds are ideal for multipurpose rooms that may alternately require a bed and a comfortable place for sitting. Bunk beds, one twin-bed frame stacked upon the other, are excellent space savers for bedrooms that sleep two children.

Mattress: A twin bed mattress comes in two sizes: twin, which measures 39 inches wide by 75 inches long, and twin XL, which measures 39 inches wide by 80 inches long. The longer size of the twin XL provides extra sleeping space for taller people. Innerspring mattresses often consist of dozens of coils with a top layer of high-loft cotton batting. Pillow tops provide an extra layer of padding between you and the innerspring coils. Memory foam mattresses distribute body weight more evenly, eliminating painful pressure points for a more restful night's sleep.

Sheets: Sheets for twin beds are generally made of cotton or cotton-polyester blends. High thread counts usually equal softer, more durable sheets. Order twin and twin XL sheets by name to ensure they will properly fit your mattress.

Pillows: Pillows have coverings generally made from cotton or cotton blends and can be stuffed with materials like down, polyester fiberfill or foam. Add decorative pillows that coordinate with bed coverings to give beds a more finished look.

Bed covering: A bed covering like a bedspread, comforter or duvet can turn your twin bed into a decorative piece of furniture. All of these coverings, made from materials such as cotton and polyester, come in a wide variety of colors and styles and are quite often machine washable. A bed-in-a-bag set is the perfect way to buy coordinating elements like sheets, pillow cases and a comforter for your twin bed in one convenient bag.

Buy Twin Beds
Back to Guides Directory