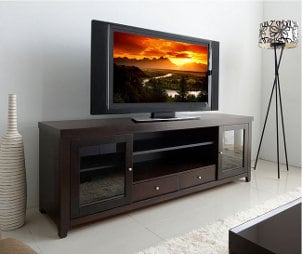 Looking through a long list of entertainment centers may seem overwhelming, but if you have the right information you'll find the perfect TV Stand in no time. Find out if you need to look at TV stands made for a flat-screen or for a tube TV. This information will affect your final decision as not all TV stands are interchangeable between the different kinds of televisions. Keep reading for more information about TV stands for every TV.
Types of TV Stands:

Media stand. These TV stands are perfect for both types of TV. In addition to providing a sturdy base to rest your television on, many of these media stands also include storage for your DVDs and gaming systems. Some come with doors that swing or slide shut in order to hide the TV when you're not using it.

Entertainment center TV stand. This type of television stand ranges from large and ornate to minimalistic and sleek. A fully functional entertainment center usually allows room for other items besides those related to your television. In addition to storing your TV, DVD player, speakers, game consoles and movies, you can also store items that complement the decor of your living room, such as artwork or plants. An entertainment center is meant to act as the focus of your living room.

Corner TV stand. Corner stands are perfect for small apartments or crowded living rooms. This TV stand is designed to fit snugly in the corner and take up as little room as possible. This leaves you free to place other pieces of furniture in the available space. A tube TV or flat-screen TV will fit this type of TV stand.

Wall-mount TV stand. Most wall-mounted TV stands are designed for flat-screen TVs. This type of stand saves floor space. You'll be surprised at how much space you'll have when you get rid of your floor model and mount your TV to the wall. However, you'll need to remember is that these TV stands don't have any type of storage for DVD players or movies and plan accordingly.

Free-standing TV stand. These types of TV stands are meant for small LCD or plasma TVs. A free-standing TV stand fits perfectly in a corner of your living room or bedroom. The heavy base is what keeps it from tipping over when you put the TV on top. However, you should always exercise caution when you use one of these. A nudge could knock over your TV stand, so be sure to place this stand in a low-traffic area. If you do that, you shouldn't have any problems with it.

Buy TV Stands
Back to Guides Directory