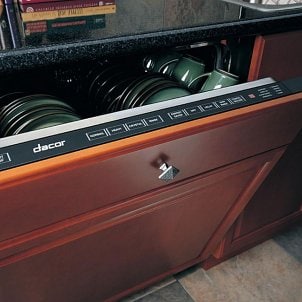 Like most large appliances, dishwashers have advanced quite a bit in the last few years, with features designed to make washing dishes easier than ever and save you money by using less energy. However, modern dishwashers come with a bewildering array of extras; some of which are useful and some of which are superfluous. This buying guide will talk about some of the most useful dishwasher trends out there, which will help you find the best dishwasher for your home.
Modern Dishwasher Trends:

Dishwasher size and appearance: Dishwashers nowadays come in a range of different sizes, many of them geared towards small families or homes with limited kitchen space. Portable dishwashers aren't always small dishwashers, but they're usually fairly compact, made to be easily transported or tucked out of way. Countertop dishwashers, also called tabletop dishwashers, have small capacities, but they can be a lifesaver if you're tight on space, since they can sit atop a counter. Whether you want an integrated dishwasher or a countertop dishwasher, it's easier than ever today to find a compact dishwasher. Another good thing about today's washers is that you can find them in a wider variety of colors and finishes than before. Black dishwashers, white dishwashers and stainless steel dishwashers are still probably the most popular finishes, but you can also find dishwashers in a greater variety of bright colors than before.

Advanced dishwasher settings and energy-saving features: Dishwashers are smarter than ever, with an array of different sensors and settings designed to make running your dishwasher easier, less error-prone and more efficient. Some dishwashers have water sensors that detect the level of water in the dishwasher, automatically turning the dishwasher off if it detects a leak or an overflow. High-end dishwashers may have sensors to detect the amount of dirt on a load of dishes and sometimes even the kind of dirt, which then alter the settings to suit the dirt in the load. Many of today's dishwasher settings are geared toward saving energy. Most of the energy used when you wash a load of dishes goes toward heating water, so some dishwashers clean using cold water or simply using less water than older dishwashers. If you want a dishwasher that will use less energy, look for Energy Star dishwashers. Energy Star dishwashers are certified to meet certain energy-reduction standards.

Redesigned dishwasher racks: Dishwasher racks in modern dishwashers haven't become more high-tech, but they have benefitted from improved designs that give you more flexibility and room as you load dishes. For example, some dishwashers have two-part silverware trays, so if you have just a few pieces of silverware that you want to wash, but lots of dishes, you can pull out half of the silverware tray, giving you more room for pots and pans. Drawer dishwashers are also becoming more popular. Instead of having a single door, drawer dishwashers have two or three large drawers. Not everyone prefers double-drawer dishwashers and three-drawer dishwashers over traditional dishwashers, but some people find pulling out drawers more convenient that opening a door and pulling out racks.

Buy Dishwashers
Back to Guides Directory